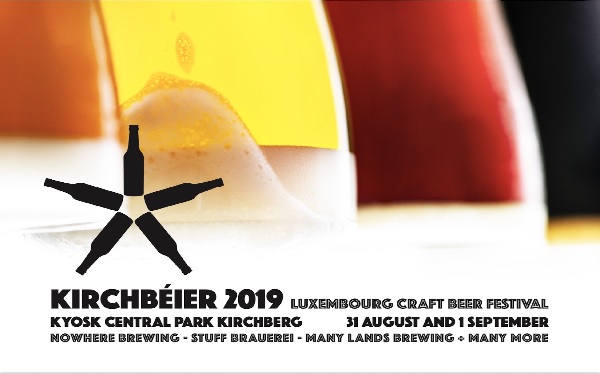 The third edition of the first Luxembourgish festival devoted exclusively to craft beer, the Kirchbéier Craft Beer Festival, will be taking place on Friday 31 August and Saturday 1 September 2019, at Kyosk in Luxembourg-Kirchberg.
The passion for craft beer has given rise to the Kirchbéier Craft Beer Festival in Luxembourg, where more and more brewers come to share this passion and present their new creations.
Organised by four Luxembourgish breweries, Brauerei Stuff, Craig Mcleod, Nowhere Brewing and JM craft beer trade, this third edition promises many surprises to its visitors with brewers from around the world. Representing the Grand Duchy this year will be the four breweries mentioned above, as well as Hummulus et Fermentum, Artisan'ale, Bare Brewing, Totenhopfen Schmaacht and Hoppylicious. Indeed, Luxembourg's very own artisanal cider, Ramborn, will be on display.
Breweries from France (Brasserie trois mats and Bon Poison), Belgium (Millevertus, Brasserie Minne and Arel Brewing), Denmark (Dry and Bitter Brewery), Estonia (Pühaste Brewery) and Scotland (Harviestoun Brewery) will also be present, as well as a Japanese brewery which will present the craft beer, Hitachino.