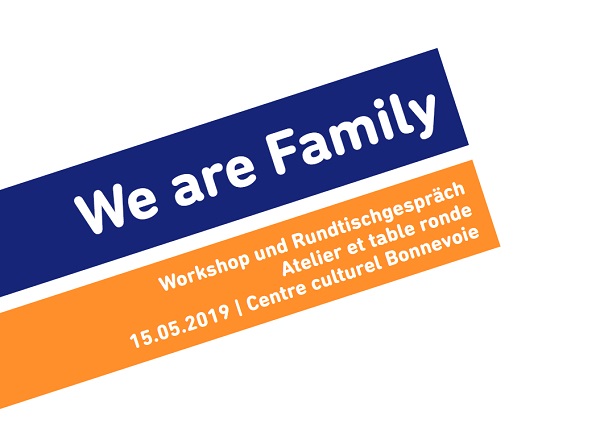 As part of National Diversity Day on 15 May, the Ville de Luxembourg (VdL) and the Familljen-Center are organising a workshop and a round table on family diversity, at the Bonnevoie cultural centre (2 Rue des Ardennes, L-1133 Luxembourg).
The goal of the "We are Family" event is to raise awareness among the general public about the different types of families that exist and to address topics such as intersex, trans-identity and disability, as well as migration in the family context. Through meeting and discussing with parents, representatives of associations and psychologists, the event will highlight today's families, what worries them and what unites them.
The event will begin with the "Living library" workshop, taking place from 14:30 to 17:30, which will bring together parents from different types of families to share their experiences in small discussion groups and discuss the challenges and stereotypes they face in everyday life. Participants will have the opportunity to ask questions and actively participate in the discussion.
This will be followed by a round table from 19:00 to 21:00, during which representatives of families from different backgrounds will take a look at the diversity of "non-traditional" families. Through the exchange, the parents will reveal their personal experiences, the challenges they face and their wishes for the future.
Exchanges will continue around a glass of friendship offered by the City of Luxembourg.
Participation in both parts of the event is free, although registration is required via email: egalite@vdl.lu (until 3 May 2019 inclusive). The workshop will be held in Luxembourgish and German (with translation into French, and German Sign Language, if required).
In addition, the Cinémathèque will screen "Antonia's Line" at 19:00 on 18 May 2019, as part of the National Diversity Day celebrations. The film traces the history of Antonia and her diverse and atypical family for its time. At the end of the war, Antonia returns with her daughter to the village where she was born in the Netherlands. The two women go on to have a large, extended matriarchal family. The film, produced in the Netherlands by Marleen Gorris in 1995, won an Oscar for Best Foreign Film in 1996. It will be shown in Dutch with French subtitles. Information and prices: www.cinematheque.lu.