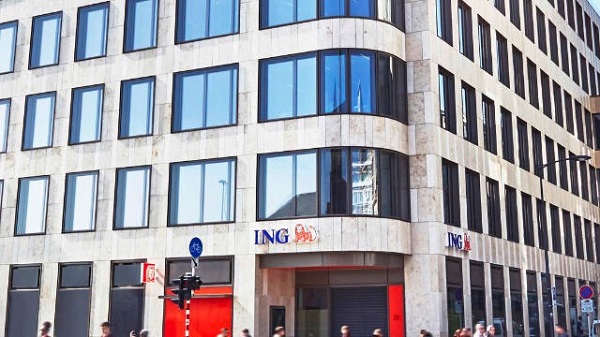 ING Luxembourg has published its financial results for the year 2021; the bank posted a net result of €120 million in 2021, up 33% compared to the previous year.
Increased lending volumes (€9.0 billion) and strong fee income growth (up by 22.5%) in 2021 were a sign of growing confidence in the economy as Luxembourg slowly emerged from the COVID-19 slowdown. Both of these contributed to a 13% increase in total income compared to 2020 and a record underlying net result of €120 million, after a tax burden of €41 million.
"Looking back on 2021, I'm very pleased with our performance", said ING CEO Colette Dierick. "Despite the challenging conditions impacting customers, colleagues and society – from the ongoing pandemic to supply-chain pressures, rising energy prices and inflation – we achieved record financial results".
The health and safety of ING staff continued to be a priority for the Executive Committee throughout the year. ING's offices were adapted to the hybrid situation, with employees receiving assistance in setting up their home offices as well as having access to online wellbeing information. In 2021, for the third year in a row, ING was named "TOP Employer", a prestigious award granted only to three companies in the Grand Duchy. The jury recognised ING's human resources practices which foster unity around the bank's values and purpose to empower people to stay a step ahead, in life and in business.
Nevertheless, 2021 was a year of highs and lows for ING's customers and staff alike. The return to the office in autumn turned out to be very short-lived. COVID-19 began to surge once again towards the end of the year and many gatherings and celebrations had to be cancelled. ING planned a series of smaller end-of-year get-togethers to celebrate the achievements of its staff. "I am convinced that these small gestures, rightly baptised Happy Weeks, are what make ING a great place to work and repeatedly earn us labels such as TOP Employer and Happy Trainees", commented Ms Dierick. The bank was also awarded the label "Happy Trainees" in 2021 for the eighth consecutive year.
There were also economic challenges including supply chain pressures, the persistent low-interest-rate environment in euro, rising energy prices and inflation. Still, already in 2021, ING identified positive signs of economic recovery, like increased lending volumes and a strong growth in fee income.
Diversifying sources of income has been a priority in the low-interest-rate environment and net fee income increased by 22.5% in 2021. Paired with a solid commercial and financial performance, the bank achieved record income levels of €338 million. ING managed to keep the cost-income ratio at 53% (an improvement of 4% compared to 2020). Its solvency ratio remained strong at 24%, well above the regulatory minimum, as did its return on equity (11%).
The pandemic has also had an influence on the way customers interact with their bank, with many turning to mobile solutions for their daily banking needs: in 2021, 93% of customers had adopted My ING and almost half accessed it via a mobile device. ING reviewed its servicing model for Retail Banking in 2021, adapting the opening hours of its branch network and reinforcing centralised teams for specific needs: personal banking for investment needs, business banking for small and medium-sized enterprises (SMEs) and the self-employed and a contact centre for servicing and support.
For the second year in a row, ING won "Best Private Bank in Luxembourg" at the Global Private Banking Awards 2021 (Professional Wealth Management and The Banker), a testament to its efforts in continuously training staff to guide customers through the various portfolio management, lending and estate planning solutions available. The strong performance of mortgages and asset management in 2021 led to higher income than in 2020 in Private Banking.
ING Solutions Investment Management (ISIM), the Luxembourg management company of ING, continued its strong growth spurt surpassing €30 billion in assets under management last year. It currently manages out of Luxembourg funds that are distributed in five European countries. ING Lease, a subsidiary of the bank, kept a stable portfolio and solid financial performance in 2021.
Despite the health crisis, Wholesale Banking reported a record performance in 2021 across all its activities: lending, payment and cash management and securities services. The financial result benefitted from the evolution of exchange rates (USD and GBP).
ING's balance sheet grew considerably in 2021 to €23.3 billion following large deposit inflows in Wholesale Banking. Lending to clients rose by €0.3 billion, or 4%, higher than the growth realised in 2020. For Retail and Private Banking, mortgage loans grew by €0.2 billion to a year-end level of €3.5 billion. ING remained resilient throughout the still peculiar year 2021. The increased costs linked to investments in risk management and technology were compensated by savings in other areas.
Regarding the bank's role in the community, Colette Dierick noted: "Climate change and everyone's financial health have become crucial issues. As a financial institution, we have a responsibility to be accountable both to our customers and to society as a whole". ING received for the fourth time the ESR label from the Institut National du Développement Durable (INDR) for corporate social responsibility (CSR). The audit performed for this label highlighted improvements in all pillars of sustainability.
ING also put sustainably at the heart of its strategy, incorporating sustainability criteria into lending decision making and the selection of investment products. As proof of this, the prestigious ESG label by LuxFLAG asbl was renewed for the ING ARIA Sustainable Bonds funds. On lending, approximately 33% of the Wholesale Real Estate portfolio is composed of green deals, 40% of which have Energy Performance Certificates.
In 2021, ING's charitable contest ING Solidarity Awards granted four local non-profit organisation's projects linked to financial inclusion or climate change. Each of them received €5,000 and a visibility campaign reinforced by a video clip financed by ING.
The cultural sector, which suffered from the continued pandemic situation, was also able to count on ING's support in 2021: from the exhibition of Luxembourg artist Sophie Jung at Casino Luxembourg, the Multiplica festival of digital arts and the Triennale exhibition of young contemporary artists in Luxembourg and the Greater Region in Rotondes to the multimedia exhibition by Karolina Markiewicz and Pascal Piron "Stronger than memory and weaker than dewdrops". Together with its long term partners Rockhal and Rocklab, ING supported a second season of the Rocklab Pop-up Sessions.
Looking to the future, Ms Dierick stated: "After a 2021 record year for income and net results, the 2022 context will be more difficult for ING as we invest in complying with new regulation, such as the 5th AML directive or SFDR, and technology. Nevertheless, when I see the results over the last years and how resilient our teams have been during this extraordinary period in our lives, I am convinced we will continue to empower customers big and small, in Luxembourg and abroad".