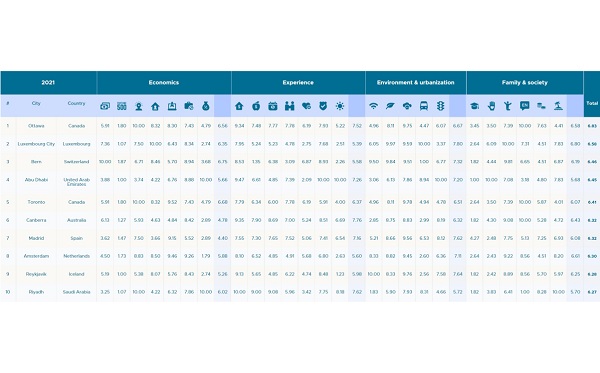 Expat City Index 2021: Top 10; Credit: LoanLink24
German online mortgage broker LoanLink24 has ranked Luxembourg City as the second best city in the world for expats, and the most attractive destination in Europe, in its Expat City Index 2021.
This comprehensive analysis of 70 cities for 25 influencing factors was carried out for the first time in 2019. The new edition features the latest data, including on earnings, cost of living, hospitality, quality of life and remote work, and offers a comparison of the conditions for expats before and after the COVID-19 pandemic.
The Canadian capital Ottawa successfully defended the top spot as the best destination for expats. According to the ranking, a low cost of living, an average work week of 37 hours with full employment and attractive environmental conditions make Ottawa "extremely liveable".
In addition to ranking 2nd overall (up 20 places compared to 2019), Luxembourg City came out top of the list of European cities with the most to offer expats. According to the report, the Luxembourg capital, together with Bern in Switzerland, offers expats the highest quality of life, a lot of security and good earning potential. However, cost of living is comparatively high, with property costing an average of around twelve annual salaries in Luxembourg City.
With 47% of employees working from home during the pandemic, Luxembourg as a country topped the teleworking ranking, followed by the Netherlands and Switzerland with 40% each.
"The pandemic has permanently changed the way we live and work. With the increasing spread of hybrid work models, the number of those who are toying with the idea of ​​emigrating will also grow", stated Anna Friedrich, press spokeswoman for LoanLink24. "With this study, we want to offer prospective expats starting points that should help them to find the ideal emigrant destination".