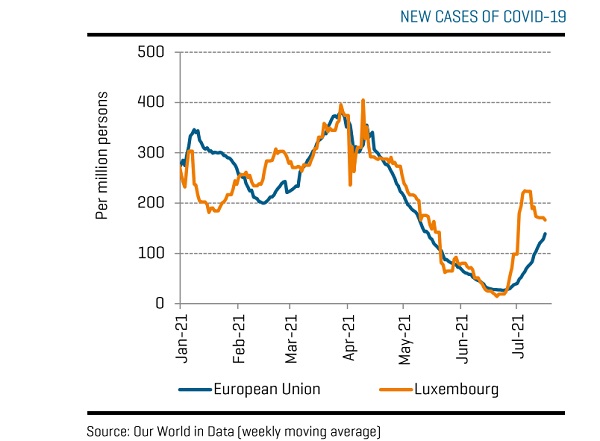 New cases of COVID-19; Credit: Our World in Data
According to Luxembourg's statistical institute, STATEC, a new wave of COVID-19 infections in Europe (and worldwide) could impede the expected economic recovery.
Although the economic situation in Europe improved considerably in the second quarter of 2021, the pandemic is far from being under control.
STATEC warned in its latest report that a new wave of infections puts the predicted economic recovery at risk.
Earlier this month, the European Commission predicted 4.8% growth in the euro area this year, up 0.5% compared to last spring's forecasts. The Commission also revised its forecast for Luxembourg this year upwards by 0.3% to 4.8%.
Despite this improvement in the economic climate, the outlook for the second half of the year remains closely linked to the evolution of the health crisis.
Impact of variants
STATEC noted that the lifting of restrictions and the emergence and spread of new COVID-19 variants have resulted in a rise in infections worldwide. Sine late June, Europe has been particularly hard hit by the Delta variant, with several countries having already imposed new restrictions to keep this new wave under control. These measures will continue to impact activities involving high levels of social and physical interaction, namely the hospitality and entertainment industries, and will limit mobility.
Luxembourg's statistical institute noted that not all European countries have been affected by this new wave to the same extent. The worst affected (in terms of number of cases per population) are the Netherlands, Spain, Portugal, Greece, Cyprus and Malta. On the other hand, eastern European countries, as well as Germany, Austria and Italy, have so far been relatively unaffected.
In Luxembourg, new infection numbers rose rapidly at first but recent figures show these have fallen slightly. Over 300,000 residents (i.e. almost half the population) are now fully vaccinated, and the number of people hospitalised with COVID-19 remains relatively low.
Stock markets
STATEC also explained that stock markets began trending downwards at the start of the summer (down 5% since mid-June).
New health restrictions across Europe have hit valuations of travel and leisure companies particularly hard. Fears that these restrictions will slow demand have also pushed down oil stocks and Brent prices.
Renewed interest in risk-free assets such as ten-year sovereign bonds has driven prices up and reduced borrowing rates for all euro-area member states.
Unmployment
Unemployment has fallen in most European countries since autumn 2020. In Luxembourg, the drop in unemployment goes hand-in-hand with an increase in subsidised jobs. Even taking into account people in job schemes, who are no longer considered as unemployed, the basic trend in unemployment remains downward and therefore cyclical.
Fuel prices
European natural gas prices reached a new high in June 2021, with the European benchmark price rising 80% between January and June. STATEC has attributed this increase to the fact that gas storage facilities are empty after a winter that was colder and longer than usual, as well as to extremely high demand, particularly from Asia.
Price rises on European wholesale markets have not yet affected consumer prices in Luxembourg. However, because Luxembourg fuel prices are generally lower and less volatile than international price trends, the fuel price increase in Europe is expected to result in a price rise in Luxembourg, as well.