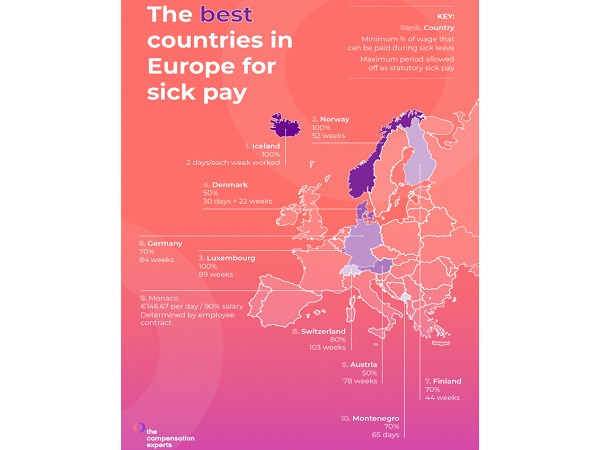 The best countries in Europe for sick pay; Credit: The Compensation Experts
According to a new report by The Compensation Experts, Luxembourg is the 3rd best country in Europe for mandatory sick pay for employees.
Undertaking research to reveal the sick pay packages of European countries, The Compensation Experts have ranked each nation on how well they compensate their residents in times of ill health.
This research found that Iceland leads the way in Europe for its workers' sick pay package. Employees across the Nordic island are entitled to 100% of their wage for a minimum of two days for every month they have been in employment.
Trailing closely behind, fellow Nordic countries Norway (which ranked 2nd) and Denmark (in 4th place) also offer great sick pay entitlement: each provides nationals with 100% of their salary, with the Norwegian government covering an employee for up to a year and Denmark covering its employees for up to 22 weeks within a nine-month period.
Similarly, residents of Luxembourg (in 3rd place) are entitled to their full salary when sick, for up to 89 weeks, while Austrians (in 5th place) are allowed 100% of their salary for their first twelve weeks off work.
The three worst European countries for sick pay were Malta, where employees are entitled to just €420.30 per month for up to 22 weeks, followed by Ireland, where there is no legal sick pay obligation (sick pay is determined by employee contract type), and the United Kingdom, where employees are eligible for just £96.35 per week for up to 28 weeks.
Methodology
Analysing the sick pay packages across 42 European countries, The Compensation Experts ranked each country according to their respective minimum and maximum pay and the timeframe an employee is entitled to claim. Minimum and maximum pay is a percentage of an employee's salary, unless specified.