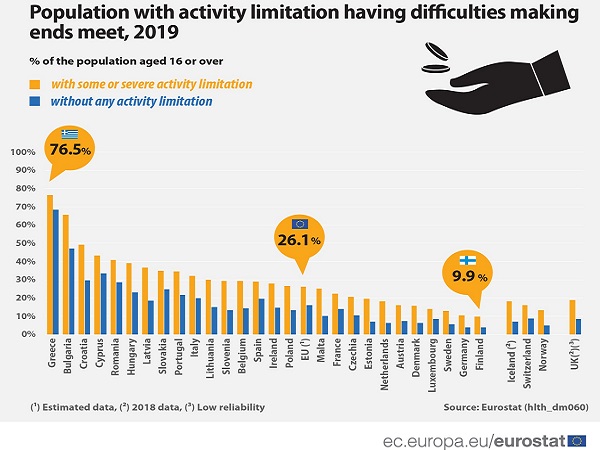 Credit: Eurostat
According to a recent Eurostat report, 14% of adults living with a disability in Luxembourg struggled to make ends meet in 2019.
The report revealed that in 2019, 26.1% of adults in the European Union (EU) with a disability resided in households that reported having insufficient financial resources to cover their usual necessary expenses, compared to 16.0% of adults with no disability.
Among the EU Member States, approximately two-thirds of adults with a disability faced financial difficulties in Greece (76.5%) and Bulgaria (65.7%). Just under half of the population encountered such difficulties in Croatia (49.2%), Cyprus (43.2%) and Romania (40.9%).
At the other end of the scale, less than 20% of people with a disability had difficulties making ends meet in Finland (9.9%), Germany (10.4%), Sweden (13.1%), Luxembourg (14.0%), Denmark (15.8%), Austria (16.2%), the Netherlands (18.2%) and Estonia (19.6%).