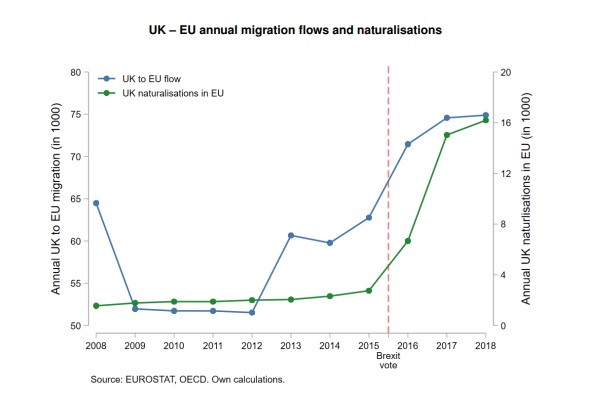 A collaborative Oxford in Berlin/WZB UK Migration Study was published yesterday, Tuesday 4 August, revealing stark findings about, amongst other things, the impact of Brexit on UK to EU migration and citizenship applications.
The report states that, since the referendum, there has been a 30% rise in migration from the UK to the EU compared to pre-Brexit numbers, and the number of British citizens obtaining an EU member state passports has increased by over 500%, with extraordinary rises in countries like Germany at over 2,000% since 2015. Based on official migration statistics between the United Kingdom and the remaining EU/EFTA member states, the report shows that the vote led to an increase in migration from the UK to the EU by approximately 17,000 persons per year, i.e. a 30% increase compared to pre-Brexit numbers.
British nationals across the EU have one of the highest average net salary levels of all migrant groups (British nationals net average income €2,812 a month in Germany in 2019, Source: Destatis) and, since the EU referendum in the UK, the German government has welcomed the application of resident British citizens for dual citizenship, employing dedicated staff in Berlin migration offices to deal solely with British applicants.
From 31 December 2020, British citizens will no longer be able to apply for dual German/British citizenship as German law stipulates that only EU members can be granted dual citizenship.
There are many further angles on the Oxford in Berlin/WZB study which is the first of its kind to look at the impact of Brexit on migration flows and British/European identity at a pan-European level. For example, a big rise in mental health amongst British migrants, a rise in risk taking and speed of decision to migrate (often subsequently misguided), new levels of 'social embedding' with new British/European identity and commitment to local integration and language learning, the economic impact/brain drain on UK/European economies, etc.
The study found that people reacted to the seismic shock of the Brexit vote by taking increased risks and often over a much shorter period of time in order to deal with the impact of the 'shock' of Brexit.
"The referendum happened and we immediately changed our minds about buying a house in Bristol. Our whole emigration decision hung on the referendum result," academic, male, 40s, married with young family, migrated July 2016.
Almost two thirds of British interviewees who migrated since the Brexit vote agreed to either a pay cut or a pay freeze as part of their migration decision, in comparison to pre-referendum when a majority received a pay rise. The economic uncertainty and risk created by the Brexit referendum appears to have had a stronger influence on their decision to migrate than the uncertainty and risk inherent in migration.
Unexpectedly, UK citizens in Germany appear to have made a much greater commitment to integrate or 'socially embed' in their local communities as a result of the Brexit vote. That was indicated in commitment to language learning and local community work, with many respondents reporting a new pride in a British/European identity. And the German state, in strategic acknowledgement of this new social commitment, has decided since the referendum to grant 31,600 British citizens dual citizenship which allows them to maintain their UK identity indefinitely.
Co-author Daniel Tetlow said "We're observing a new social migration phenomena and a redefining of what it means to be British-European. In Germany in 2019, Brits came in just behind Turks in numbers receiving German citizenship - way ahead of Poles, Romanians, Iraqis or Syrians whom you might otherwise expect to be more eagerly applying for German/EU citizenship".
For the full study, see https://bibliothek.wzb.eu/pdf/2020/vi20-102.pdf