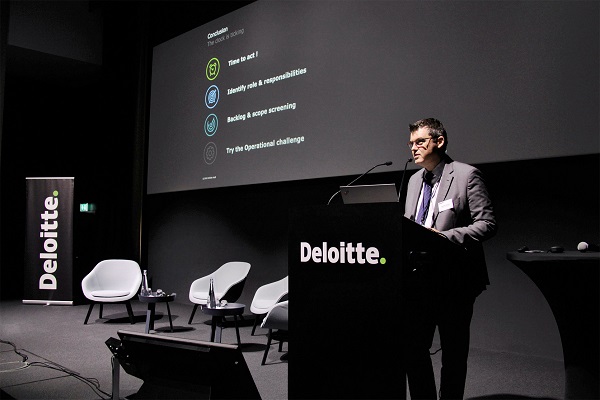 Raphaël Charlier, Audit Partner and PSF Leader at Deloitte Luxembourg; Credit: Deloitte Luxembourg
The 10th edition of Deloitte Luxembourg's annual whitepaper "Outlook and future of a sector in remodeling" has just been published; it provides a detailed analysis of Professionals of the Financial Sector (PSF) in Luxembourg and presents the key developments and trends in this industry in the midst of a constantly changing environment.
The whitepaper "Outlook and future of a sector in remodeling" was presented at Deloitte's 10th annual conference dedicated to the PSF sector, which was held at Deloitte's premises on Tuesday 10 December 2019. The event brought together more than 130 participants. This latest analysis of the PSF market has shown continued investment in recruitment with around 17,000 professionals employed in the sector as of June 2019.
In recent years, PSFs have needed to adapt to a number of regulatory changes, as well as continuously develop and improve their technology in order to remain competitive. To comply with new requirements and stay ahead of the curve, many players in the industry have had to reimagine their service offerings and their business delivery model.
Raphaël Charlier, Audit Partner and PSF Leader at Deloitte Luxembourg, commented: "Luxembourg continues to reassert itself as a leader in the global financial sector, and its reputation for quality services among clients is built on the expertise of the PSF sector. In a constantly evolving regulatory and technological environment, it is important for PSFs to concentrate on their core business and to adapt to the needs and changes of tomorrow". He added that "the continued investment in recruitment and retention of talent within the industry only serves to highlight the strength and growth of the market".
The PSF: a consistent and steady employer
With around 17,000 sector employees noted as of 30 June 2019, a new record in the number of PSF jobs here in Luxembourg has been reached. They account for 35 percent of the total number of employees working within Luxembourg's financial sector.
Adil Sebbar, Audit Director at Deloitte Luxembourg, commented: "The sector has employed more than 15,000 professionals over the past few years, and this number has only increased to reach over 17,000 in June 2019".
These figures support the statement that PSF employment figures were relatively stable in 2018, with a slight increase compared to the previous year of 3.7%. However, specialised PSF particularly stands out, with the net creation of 472 jobs over 2018 (+12%), compared to +1% in 2017. While support PSF saw their employment figures increase by 3% during 2018 with a net creation of 275 jobs, investment firms saw a decrease (-7%), with a loss of 156 jobs within the year.
The sum of the balance sheets of all PSF amounted to €9 billion for 2018, compared to €8 billion as at 31 December 2017, i.e. an increase of 7% in one year. According to data issued by the Commission de Surveillance du Secteur Financier (CSSF), as of 31 July 2019, PSF overall have a provisional net profit of €352 million (specialised PSF accounting for €241 million), indicating a positive trend in the PSF sector.
The full version of the whitepaper is available in English at www.deloitte.com/lu/psf.