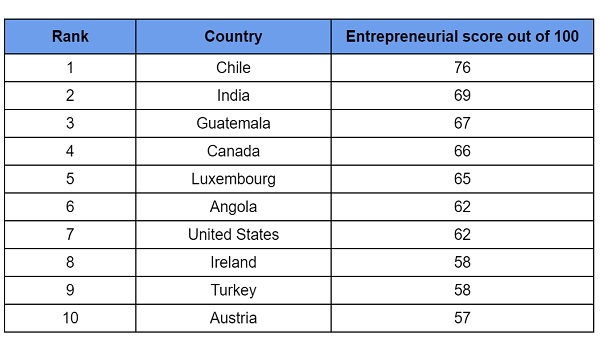 Top 10 entrepreneurial nations; Credit: Latona's
Luxembourg has ranked number one for innovation and as the fifth most entrepreneurial nation in the world overall in a new survey from Latona's Business Brokers.
For this survey, the US mergers and acquisitions broker, Latona's, analysed nations around the world using data from the Global Entrepreneur Monitor and based its rankings on key indicators of entrepreneurial potential, to reveal the world's most entrepreneurial nations. The ranking took into consideration various factors from innovation and funding to education and fear of failure.
Chile came out on top as the world's most entrepreneurial nation with an overall score of 76 out of 100, followed by India, Guatemala, Canada and Luxembourg.
As well as ranking fifth overall, with a score of 65, Luxembourg ranked joint first for innovation (along with Chile) with 48% of entrepreneurs saying they offer an innovative product or service. Both Luxembourg and Chile thus scored 40 out of 40 in the entrepreneurial index. However, 47% of entrepreneurs from the Grand Duchy said they were unlikely to start a business due to fear of failure. 15% said they intended to start a business in the next three years with 11% being new entrepreneurs.
Meanwhile, Morocco came out as the country with the highest percentage (64%) of people who said the fear of failure would prevent them from starting a business- almost four times higher than the least fearful country, Angola (17%). In fact, Angola also ranked first for entrepreneurial intentions, with 80% of residents intending to start a business in the next three years.
The USA was ranked as the nation with the most financial support for new businesses and entrepreneurs, with an index score of 15 out of 15, whilst Qatar came out on top for entrepreneurial education, with a score of 10 out of 10.
Rick Latona, Director of Latona's, commented: "Our research shows there are a lot of factors that go into creating a nation of entrepreneurs. While funding and education play a big part in nurturing entrepreneurial intentions, it's clear that creative innovation, courage and self-motivation are huge drivers of success when it comes to starting a business".
The full findings of the survey are available at https://latonas.com/entrepreneurial-nations/.