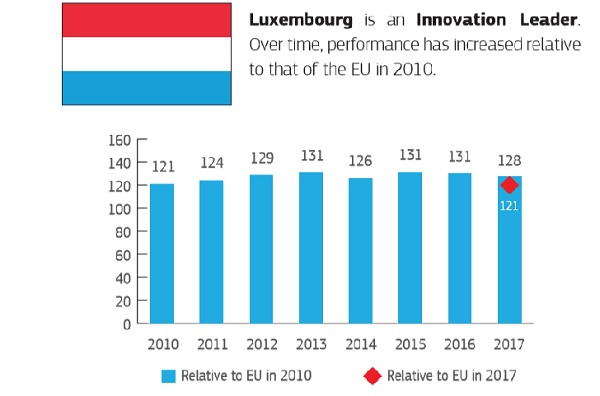 Luxembourg, for the first time, ranks among the "Innovation Leaders", alongside countries like Switzerland, Sweden, The Netherlands and the United Kingdom in the European Commission's 2018 European Innovation Scoreboard.
This is a huge leap for the young Luxembourgish research and innovation ecosystem, and an important recognition of the country's continuous efforts to develop a world-class R&I landscape. Considerable progress has been made in Luxembourg by successive governments leading to a doubling of investments in research, development and innovation in the last decade.
The report that was published on Friday states that "Attractive research systems and intellectual assets are [Luxembourg's] strongest innovation dimension".
The Luxembourg National Research Fund (FNR) has been one of the key drivers to establish Luxembourg as a leading knowledge-based society through science, research and innovation. Its unrelenting efforts to setup a world-class public research system that generates societal and economic impact in key strategic areas are bearing fruit. In the past four years, the FNR has further developed public-private-partnership programmes and increased its budgets for programmes that support knowledge transfer towards the successful commercial exploitation of research discoveries.
The Commission's 2018 European Innovation Scoreboard shows that the EU's innovation performance continues to improve, but further efforts are needed to ensure Europe's global competitiveness.
Elżbieta Bieńkowska, Commissioner for Internal Market, Industry, Entrepreneurship and SMEs, said: "The 2018 Scoreboard shows again that Europe has a wealth of talent and entrepreneurial spirit, but we must do better at turning this excellence into success. The EU, Member States, regions and industry, including our many SMEs, have to work together to increase the allocative efficiency of our economy, improve the functioning of the internal market and help ensure that Europe remains at the international forefront of innovation."
The European Innovation Scoreboard provides a comparative analysis of innovation performance in EU countries, other European countries, and regional neighbours. It assesses relative strengths and weaknesses of national innovation systems and helps countries identify areas they need to address.
The annual European Innovation Scoreboard (EIS) provides a comparative assessment of research and innovation performance of the EU and European countries. It allows policy-makers to assess relative strengths and weaknesses of national research and innovation systems, track progress, and identify priority areas to boost innovation performance. The EIS covers the EU Member States as well as Iceland, Israel, the Former Yugoslav Republic of Macedonia, Norway, Serbia, Switzerland, Turkey, and Ukraine. For the first time, this year's report also includes some available data for Albania, Bosnia and Herzegovina, Kosovo, and Montenegro. On a more limited number of globally available indicators, the EIS compares the EU with Australia, Brazil, Canada, China, India, Japan, the Russian Federation, South Africa, South Korea, and the United States.