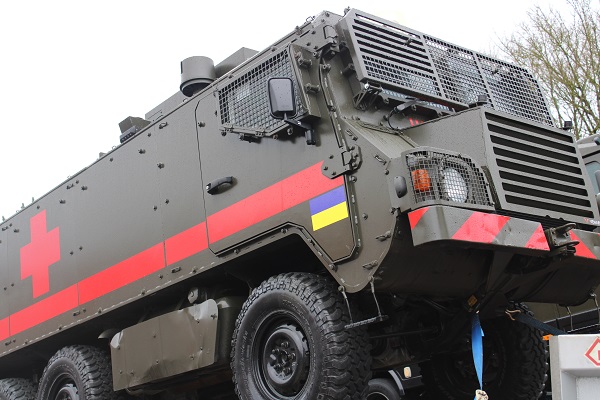 Credit: MAEE
On Saturday 11 March 2023, the Luxembourg Directorate of Defence announced that it had donated fourteen armoured ambulances to the Armed Forces of Ukraine.
The handover ceremony for the first eight vehicles (recently delivered to Luxembourg from the United Kingdom) took place on Thursday 9 March 2023, within the framework of LUkraine asbl's "Ukraine is Calling" campaign.
The Directorate of Defence said in a press release that it had acquired the fourteen armoured ambulances for the benefit of Ukraine's Ministry of Defence, as part of its ongoing support to Ukraine. The donation was made in close collaboration with LUkraine asbl and its Ukraine is Calling campaign.
Thursday's handover ceremony took place in the presence of Luxembourg's Deputy Prime Minister and Minister of Defence, François Bausch, Natalia Anoshyna, Chargée d'affaires a.i. of Ukraine to Belgium and Luxembourg, General Steve Thull, Luxembourg's Chief of Defence, Colonel Oleg Semenikhin, Defence Attaché to the Embassy of Ukraine to Belgium and Luxembourg, Nicolas Zharov, President of LUkraine asbl, Inna Yaremenko, Vice President of LUkraine asbl, and Oliver North, Deputy Chairman at Venari Group.
UK-based Venari Group refurbished and modified the Mercedes and Pinzgauer 6x6 type armoured ambulances for use by Ukrainian military medical personnel in the eastern regions of Ukraine.
"Heavy fighting is currently taking place in eastern Ukraine. Besides much-needed ammunition to maintain the defence, Ukrainians also urgently need these armoured ambulances to safely transport wounded soldiers from the battlefield to a secure infirmary," stated Minister Bausch. "These fourteen ambulances, highly coveted by the Ukrainian authorities, will make it possible to save not only the lives of soldiers but also of civilians who find themselves in regions devastated by the conflict."
LUkraine asbl President Nicolas Zharov added: "Since the beginning of the full-scale Russian invasion of Ukraine, medical infrastructure has become one of their main targets. [...] Paramedics constantly risk working in inhumane conditions and doing their best to save lives with destroyed medical equipment or lacking supplies." He continued: "These armoured ambulances are vital for Ukrainian heroes and will undoubtedly help save hundreds of lives. There are no words to express our gratitude to the Directorate of Defence of the Grand Duchy of Luxembourg. Thank you for your unconditional support of Ukraine!"
LUkraine asbl described Luxembourg as a "reliable partner" for Ukraine since the start of Russia's full-scale invasion, having provided over €74 million in lethal and non-lethal equipment last year.
The non-profit also recalled that Luxembourg's Ministry of Home Affairs donated eight ambulances to the Ukraine is Calling project (the objective of which is to raise €10 million to purchase 112 emergency vehicles) in 2022.
To date, 24 emergency vehicles have already been sent to Ukraine as part of this campaign.