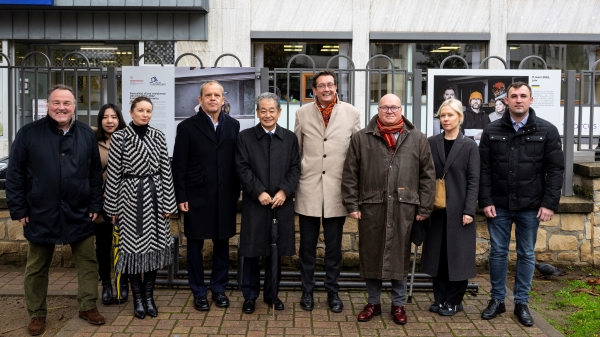 Credit: Photothèque VDL / Charles Soubry
On Friday 18 November 2022, alderman of the City of Luxembourg, Maurice Bauer, and the Ambassador of the Republic of Poland to Luxembourg, Piotr Wojtczak, inaugurated the exhibition "Portrait(s) of a resistance / Ukraine 2004-2022" on the Place de Strasbourg, Luxembourg City.
For more than fifteen years, the Polish photographer Justyna Mielnikiewicz, winner of numerous international awards, including the prestigious World Press Photo, has been producing documentary photos of Ukraine. When she returned there in early 2022 to continue her work, she was faced with the Russian invasion and the ensuing war. The photographer documents the first weeks of the war, notably in the cities of Lviv, Kyiv and Dnipro. With her photos showing mainly the civilian population, she gives a face to the innocent victims and to the reality of Ukrainians facing the war. According to the exhibition organisers, the photographic testimony of Justyna Mielnikiewicz is intended as a symbol of support for Ukraine and an act of commitment for fair media coverage in times of disinformation, despite the perils.
This open-air exhibition, produced in collaboration with the Embassy of the Republic of Poland in Luxembourg, is free and open to public until mid-January 2023.