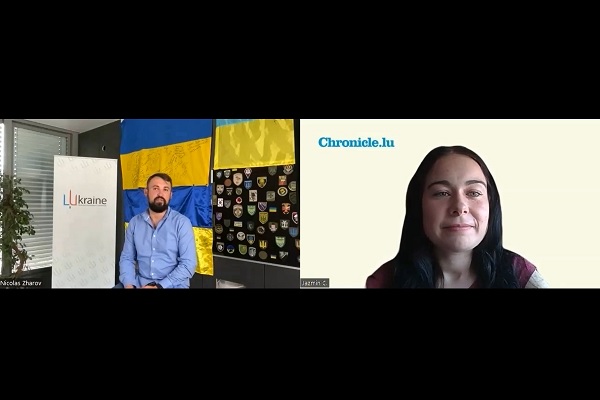 L-R: Nicolas Zharov, President of LUkraine asbl; Jazmin Campbell, journalist at Chronicle.lu; Credit: Chronicle.lu
In a fifth weekly video interview on Chronicle.lu, LUkraine asbl President Nicolas Zharov discussed the progress (and success) of the non-profit organisation's "Super U" summer camp for Ukrainian refugee children in Luxembourg and addressed various aspects of the Russia-Ukraine war.
Launched on 18 July 2022 and run by camp leader Elena Berkovich, Super U is now entering its third and final term. Held in the municipality of Leudelange, the summer camp aims to both entertain and educate Ukrainian children during the summer holidays, helping them to better integrate into Luxembourgish society whilst giving their parents the time to work, find a job or attend various training courses. The camp takes place five days a week with the support of more than ten paid volunteers, all of whom are refugees themselves.
"The work with children is simply great, because those are really pure human beings", commented Nicolas. "If we have the opportunity to go with them somewhere, in a park or somewhere, we do it". He added that the camp had become better known in Luxembourg, with "more and more people join[ing] our efforts". For example, various companies and clubs have offered their support regarding transport or costs associated with excursions for the children. Whilst the camp is set to finish at the end of August, Nicolas hinted that the non-profit may organise a fourth term "if everything goes [well]". However, this would take the form of a Saturday camp for children, similar to an initiative run by LUkraine asbl until April 2022.
At present, the summer camp sees children focus on a specific topic each day, for example the history of Luxembourg or that of Ukraine. "We try to [make] it multicultural, to integrate those children, but all their thoughts are still in Ukraine. All the pictures [and] stories we have are Ukraine-related", explained Nicolas, adding that this served as greater motivation for the non-profit's work in supporting Ukrainians during the war. He also spared a thought for "those children who cannot go on holidays, who are still in Ukraine", adding that LUkraine asbl's partners were trying to take these children abroad for a week or two so that they could experience some summer holidays.
Nicolas also revealed that the Ukrainian School in Luxembourg, which had to close its doors during the COVID-19 pandemic, is likely to reopen in the new schoolyear. He noted that the non-profit was awaiting "some good news" from Luxembourg's Ministry of Education, Children and Youth: "If everything goes well, we might reopen the Ukrainian school […] that was open on weekends, one day a week. [...] So, I'm really thrilled and waiting for this news when people come back from holidays".
Regarding the current needs of Ukrainian refugees in Luxembourg, Nicolas confirmed that these had remained unchanged in recent weeks and months. Concerning the need for school supplies, he noted that Ukrainian children had received such material when they had started school in Luxembourg earlier this year, although he recognised that there may be a need to carry out a similar initiative in September. In any case, it was normally the Education Ministry that took care of this, he added. "The current needs of refugees [remain] unchanged. So basically, financial resources and housing. Housing is still a big problem in Luxembourg", Nicolas elaborated. "Out of 5,000 refugees, more than 50% are still living in host families and we should do something about that. […] Eventually, we'll get to a sustainable solution". He added that there was evidence that the winter months could prove difficult, stating: "We have to be prepared".
On the subject of winter, Nicolas recognised that many Europeans were worried about the situation concerning (Russian) gas in the colder months but he assured that this would not be as dramatic as some currently believed. "It's not that the heating will be cut", he said. "The average temperature that they're used to for heating may be lowered by 2 to 3 degrees. […] I think every one of us is ready to live in a place which is 2 to 3 degrees colder than usual in winter to save lives". He added that this was a small sacrifice compared to that being made by Ukrainians at present and rejected the possibility of surrender. "People and the media in the western countries of Europe sometimes say 'Why wouldn't you just give up?' That's a question I hear often right now and I want to answer this question", he stated. "I want people to understand what would happen if Ukraine surrendered, what's the next step: repressions, violence, some concentration camps. […] So, I think this question should be simply closed. There is no way of surrendering. Because surrendering means death for us".
"I don't think people realise the consequences of those words and those decisions", he continued. "The people who are fighting know what they fight for and we know we're on the good side of history".
Referring to Russian "blackmail" concerning the Zaporizhzhia plant in south-eastern Ukraine, the largest power plant in Europe, Nicolas stated: "There is no negotiation with terrorists who actually put in danger not only the people of Ukraine but basically the people of the whole world. We are talking about international terrorism". He took this opportunity to thank Latvia for having "recognised the Russian Federation as a terrorist state", adding: "I think it's a good path to follow".
Regarding the potential impact of the European Union's decision to reduce natural gas demand by 15% this winter, and whether he felt such measures went far enough in relation to Russia, Nicolas stated: "Every level of sanctions is another drop in a glass that gets [fuller] and at some moment it will hurt so much the [Russian] people. I really hope the Russian people will understand what the real consequences of this war [are], what they will face in the near future. […] A major crisis". He added that the only way of avoiding this, in his opinion, would be for the Russian people to try to change their leadership. He also stated that Russia would "pay for the reconstruction of Ukraine, for everything they have destroyed in Ukraine, for every life lost during this war" and that he hoped that those responsible for the war would face the judgement of the International Court of Justice.
Nicolas recalled that the war is not over and a lot of support is still needed from the international community, particularly military support but also financial and humanitarian support. He warned that should support for Ukraine cease, "the whole European system [would be] at risk", adding that the international community, and Europe in particular, should "rethink" its approach towards its neighbours and politics.
LUkraine asbl's President, who is a Ukrainian citizen himself, also emphasised that he was "so proud of the Ukrainian people", comparing his homeland to "a phoenix that was reborn during this war". He elaborated: "[Ukraine] showed to the whole world how […] to resist an aggressor".
Watch the video interview below: