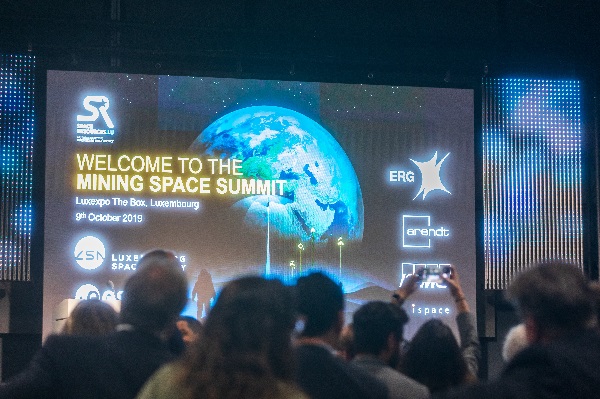 Mining Space Summit; Credit: ERG
Eurasian Resources Group (ERG), a leading diversified natural resources group headquartered in Luxembourg, today announced its support for the Mining Space Summit, a one-day workshop organised by the Luxembourg Space Agency (LSA) together with the government, in Luxembourg.
Delivered as part of Space Resources Week (7-11 October 2019), the event aimed to foster dialogue and cooperation between the "terrestrial" mining industry and the space community. Guest speakers and experienced mining professionals took part in discussions on cooperation and further synergies between these two sectors around the development of space resources utilisation (SRU) and the necessary and most critical technologies and operations.
Étienne Schneider, Luxembourg's Deputy Prime Minister and Minister of the Economy, delivered his welcome remarks at the event which was also attended by senior representatives of the LSA, the European Space Agency (ESA), the European Investment Bank (EIB) and NASA. The Summit was brought to a close with a reception, sponsored by ERG, open to all Space Resources Week participants.
Marc Serres, CEO of the Luxembourg Space Agency, said: "I would like to thank Eurasian Resources Group for its sponsorship and support for the Mining Space Summit. Space resources have become a particularly vibrant and innovative area. But, there are technical and operational challenges to be addressed. Engagement between the terrestrial mining industry, and the space community will be key to overcoming them".
Benedikt Sobotka, CEO of Eurasian Resources Group and Honorary Consul of Kazakhstan to Luxembourg, added: "We welcome the initiative's aim in promoting stronger cooperation between the terrestrial mining industry and the space sector, an area of strategic significance. It is incumbent on the mining community to enable the transfer of its considerable knowledge and expertise in order to advance what is a very promising field". He added: "At Eurasian Resources Group we are especially pleased to be supporting the mining and space exploration ecosystems in Luxembourg, which has been at the vanguard of the space mining industry and which has been our headquarters for already more than five years".
The Mining Space Summit is one of a series of initiatives of the LSA, held as part of Space Resources Week.