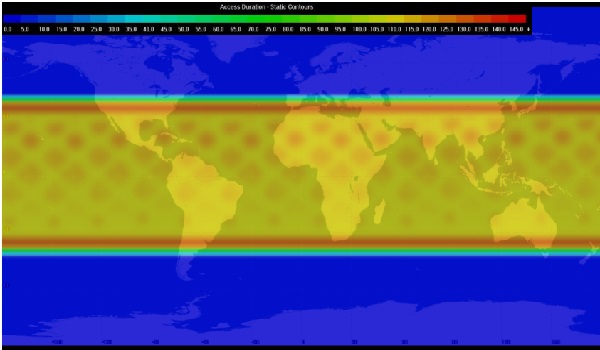 Maritime piracy in 2018; Credit: One Earth Future report
Kleos Space, a space-powered Radio Frequency Reconnaissance data provider based in Luxembourg, today announced that it has changed the launch provider for its Exploration Mission satellites, which will now be launched into a 37-degree orbital inclination.
Following the recent postponement of the launch of Kleos' Scouting Mission satellites, the company investigated other available launch options with launch and mission management provider Spaceflight Inc. that would meet immediate market demand and potentially increase the value of the data collected.
The 37-degree orbital inclination will provide the Kleos' Scouting Mission cluster of four satellites with improved data collection by a factor of between 2 and 4.5 times over crucial shipping target regions such as the Strait of Hormuz, the South China Sea, the Australian Coast, the Southern US Coast and both the East and Western African Coasts when compared to the originally planned Sun Synchronous Orbit (SSO).
Since the original choice of SSO was made over a year ago, the threat level in the equatorial regions has increased and Kleos has made significant progress in engaging the market and securing defence and security customers with an interest in these regions, where increased coverage provides better data and improved mission provides critical information for customers.
Keeping with plans to launch in the fourth quarter of 2019, Kleos will now launch under a rideshare contract with Spaceflight Inc. on the Polar Satellite Launch Vehicle (PSLV) into a 37-degree orbital inclination. The PSLV is a highly reliable expendable medium-lift launch vehicle designed and operated by the Indian Space Research Organisation (ISRO).
Indeed, the Kleos team has analysed and confirmed compatibility with the satellites flying into a 37-degree inclination, which is where the satellites' orbit traverses between 37° North latitude and 37° South latitude. Unlike most earth observation missions which fly in an SSO to allow for the sun to illuminate their targets for imagery, Kleos technology means its satellites can observe radio frequency transmissions at any time of day because they are not dependent on sunlight.
The multi-satellite Scouting Mission system will form the foundation of a constellation that delivers a global picture of hidden maritime activity, enhancing the intelligence capability of government and commercial entities when Automatic Identification System (AIS) is defeated, imagery is unclear or targets are out of patrol range. The first scouting mission is made up of 4x nano-satellites built by GomSpace in Denmark, each the size of a shoebox.