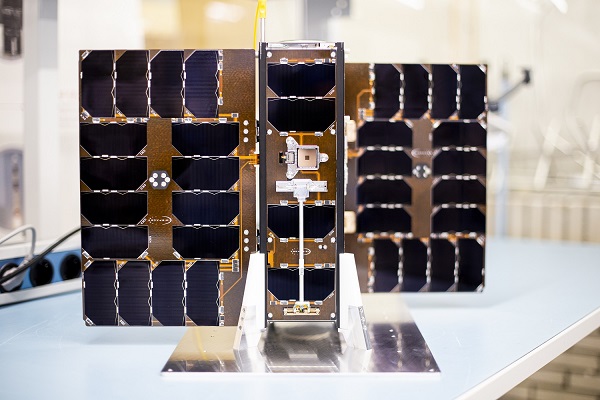 Kleos' Patrol Mission Satellites; Credit: Kleos Space
Kleos Space S.A., a Luxembourg-based space-powered Radio Frequency Reconnaissance data-as-aservice (DaaS) company, has confirmed that its Patrol Mission (KSF2) satellites are on track to launch onboard the Transporter-3 SpaceX mission in January 2022, successfully passing the final technical milestone with satellite builder Innovative Solutions In Space (ISISPACE).
The Patrol Mission satellites are travelling from the Netherlands to the launch integration facility at Cape Canaveral, Florida, USA, where they are being armed for flight, inserted into their dispensers, and integrated into the launch vehicle by Spaceflight Inc. Prior to transport, the satellites successfully completed System Assembly Integration Testing (SAIT) with ISISPACE over a six-week period, including a system checkout and mechanical inspection, battery charging and fuelling.
The transport of the Patrol Mission satellites confirms that the satellites are mission ready. The launch will increase Kleos' reconnaissance capability to three clusters of four satellites each, making a total of twelve satellites patrolling against illegal activity such as piracy, drug smuggling and border security challenges.
Launching into a 500-600km Sun Synchronous orbit, the four Patrol Mission satellites will expand Kleos' data collection capability by up to an additional 119 million km² per day. They will also enable Kleos to increase its average daily revisit rate over a 15-degree latitude area of interest to around five times a day.
Kleos Space CEO Andy Bowyer commented: "We are rapidly building our constellation to raise the volume of data available to our customers. Each new mission features enhanced hardware and software capability, leveraging the learnings of earlier launches. The improved collection capability of the Patrol Mission is key for our government and commercial data subscribers. The value of our independent geolocation data grows in line with revisit rates, as it enables subscribers to use the data to establish pattern of life behaviour or tip and cue with existing datasets to improve the identification of illegal maritime and landbased activity".
Kleos successfully launched its Scouting Mission satellites into a 37-degree inclination in November 2020 and its Vigilance Mission cluster into a 525km Sun Synchronous orbit in June 2021. Its fourth cluster, the Observer Mission, is scheduled to launch in mid-2022. Flown in a formation of four, Kleos' nanosatellites detect and geolocate radio frequency transmissions to within 300m, enhancing the intelligence, surveillance and reconnaissance (ISR) capabilities of governments and commercial entities.