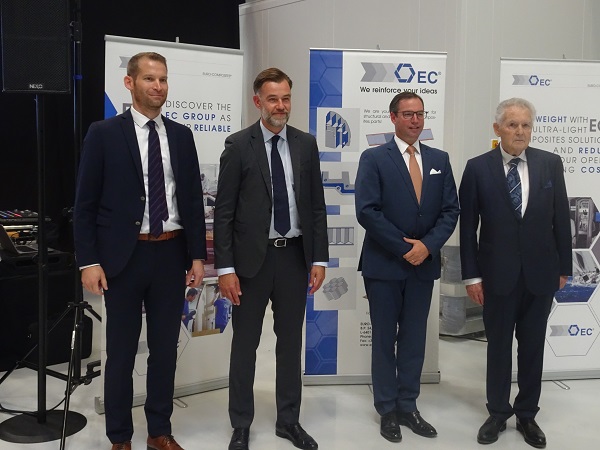 L-R: Christoph Herrmann, Deputy CEO of Euro-Composites; Franz Fayot, Luxembourg's Minister of the Economy; HRH the Hereditary Grand Duke; Rolf Mathias Alter, CEO & Chairman of Euro-Composites; Credit: MECO
Euro-Composites presented its expansion strategy for 2030 on Friday, on the occasion of His Royal Highness the Hereditary Grand Duke and Luxembourg's Minister of the Economy Franz Fayot's visit to the company's Echternach site.
A flagship of Luxembourg industry established in the industrial zone of Echternach since 1984, Euro-Composites specialises in the production of panels and parts in ultralight composite materials for the aeronautics, space, rail and maritime sectors. During their tour of the facilities on 10 September 2021, the Hereditary Grand Duke Prince Guillaume and Economy Minister Franz Fayot listened to a presentation by Rolf M. Alter, CEO and Chairman of Euro-Composites, on the group's expansion strategy for 2030.
After tracing the history of the company, the activities of which started in the aeronautics sector, Rolf M. Alter explained how the company has diversified into the production of components used in trains, ships and satellites. In service since 2018, "Hall 6.1" is also one of the largest clean rooms (facilities used as a part of specialised industrial production or scientific research) in the world. The CEO and Chairman also detailed the group's development projects until 2030, not only in Luxembourg but also in Germany and the United States, where the two subsidiaries of the company are located. The Euro-Composites group is aiming to create 750 additional jobs in the long term, including 450 jobs on the Echternach site, with an investment volume of up to €150 million.
Since its creation, the company has continued to expand its production area and invest in state-of-the-art equipment. Despite the COVID-19 pandemic, which caused its turnover to fall by nearly 30%, the company will soon acquire new equipment intended to improve the cutting process, which will be more precise and automated. The total amount of this investment is estimated at €1,572,266, co-financed up to 50% by Luxembourg's Ministry of the Economy, in the framework of the "Neistart" investment aid scheme.
During the visit, Economy Minister Franz Fayot stated: "The Ministry of the Economy has supported Euro-Composites since its establishment in Echternach. Thanks to its use of advanced technologies and the expansion of its product range, to meet the latest requirements, the company has become a world leader and contributes to the influence of Luxembourg's industrial fabric".
Rolf M. Alter, CEO and Chairman of Euro-Composites, added: "The Ministry of the Economy has continuously supported us since 1985, especially in a competitive environment marked by our American competitors. The support provided was substantial and we have always been able to count on the Ministry of the Economy, the Minister of the Economy and their collaborators".