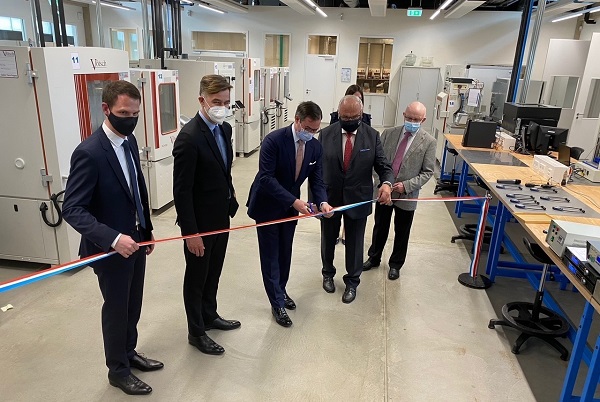 L-R: Paul Elvinger, Cebi; Franz Fayot, Minister of the Economy; HRH the Hereditary Grand Duke; René Elvinger, CEO of Cebi group; Jean-Pierre Klein, Mayor of Steinsel; Credit: MECO
On Friday 30 April 2021, His Royal Highness the Hereditary Grand Duke and Luxembourg's Minister of the Economy, Franz Fayot, visited the premises of Cebi in Steinsel to inaugurate the company's new state-of-the-art testing laboratory.
The Cebi group, headquartered in Steinsel in central Luxembourg, has always placed innovation and technology at the heart of its business strategy. In 2018, the group decided to develop its laboratory into a modern test centre which would also be accessible to external companies. Cebi Luxembourg SA has since equipped itself with around 50 new generation installations covering more than 1,000 square metres. These infrastructures have been modernised with financial support from the Ministry of the Economy.
After more than two years of work, Cebi Luxembourg's research and development (R&D) infrastructure can now offer a complete testing service which is unique in the Greater Region and already has a few test projects with partners in neighbouring countries. It will be accessible to private and public external users.
Luxembourg's Economy Minister Franz Fayot commented: "The development of Cebi during its 45 years of history is remarkable and demonstrates how the company has always been resolutely oriented towards the future. Thanks to this new test infrastructure, the group will not only improve the development process of its own products, but also contribute to the creation of specific skills on its Luxembourg site. This should also allow synergies with other players in the automotive sector in Luxembourg and in the Greater Region. The company thus contributes to the influence of Luxembourg as a hotbed of industry".
René Elvinger, CEO of Cebi Group, added: "We are pleased to be able to inaugurate today the new research infrastructure with the Cebi Luxembourg test laboratory. We would like to thank the Luxembourg state, and in particular the Ministry of the Economy, for their support throughout the project. Thanks to their support, we were able to install very specific equipment in our test laboratory, which is rare in the Greater Region. We have invested €28 million over the past three years at the Luxembourg site. Part of these investments was intended for new research infrastructure as well as for innovation projects of our products and Industry 4.0. These investments allow us to meet future challenges".
Established since 1976 in Steinsel, Cebi Luxembourg SA (formerly ELTH SA), is recognised worldwide in the development and manufacture of electromechanical components for the automotive and heating sectors. household appliances. The company supplies all European car manufacturers and almost 100% of household appliance producers in Europe. In the vehicles or household appliances of each European household, there is at least one component from the Luxembourg site. The group has 670 employees in Luxembourg and nearly 3,500 worldwide, spread over eleven production sites, seven R&D centres and a development centre for automatic assembly lines. In 2021, the company also plans to open a new production site in Jiaxing, China.