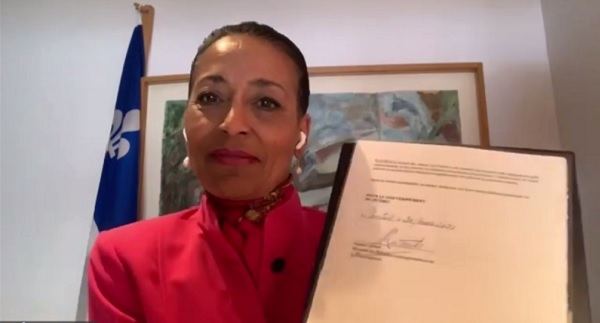 (L-R): Minister Claude Meisch; Quebec Minister Nadine Girault; Credit: MESR
On Tuesday 30 March 2021, Luxembourg's Minister of Higher Education and Research, Claude Meisch, and Quebec's Minister of International Relations and La Francophonie, Minister of Immigration, Francisation and Integration and Minister responsible des Laurentides, Nadine Girault, signed an agreement in the fields of higher education, research and innovation.
With this agreement, the ministers are hoping to promote research collaboration and exchange of researchers, as well as cooperation in the field of higher education between the institutions of Luxembourg and Quebec. Both see investment in research and development as an important engine for increasing collective wealth.
In recent years, links in higher education and research and innovation have continued to grow, as evidenced by the recent agreement between the Luxembourg National Research Fund (FNR) and the Research Funds of Quebec (FRQ) concerning the AUDACE programme, and the various scientific missions carried out on both sides of the Atlantic. An agreement between Luxembourg and Quebec concerning student mobility is currently being renewed.
As part of the signed agreement, Luxembourg and Quebec have agreed to prioritise, among others, the following areas: health (including digital and personalised medicine), information technologies, artificial intelligence, economics, law, urban development and mobility, as well as education. The agreement provides for the creation of a joint Luxembourg-Quebec working group responsible for coordinating and monitoring cooperation activities in areas of common interest.
"I am delighted with the signing of this agreement, which makes Quebec one of our privileged partners in the field of higher education and research and constitutes a framework in which collaborations between Luxembourg and Quebec research institutions can continue to develop and intensify", underlined Minister Meisch.
"Cooperation between Quebec and Luxembourg in the field of higher education and research and innovation has intensified significantly in recent years. I am happy to sign this agreement which will strengthen this movement from which our two companies benefit. I would also like to underline the excellent work of the General Delegation in Brussels, which has greatly contributed to the development of our relations with Luxembourg", declared Minister Girault.
The signed agreement is aimed at students and professionals as well as university teachers and researchers and research institutions.