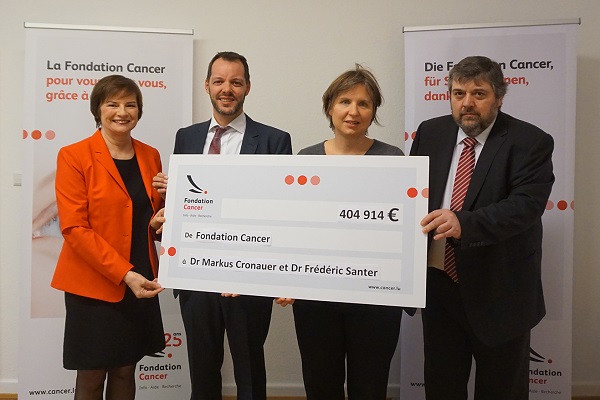 L-R: Lucienne Thommes, Director of Fondation Cancer; Dr. Frédéric Santer, Medical University of Innsbruck; Dr. Carole Bauer, President of Fondation Cancer; Dr. Markus Cronauer, University Medical Center Schleswig-Holstein; Credit: Fondation Cancer
Luxembourg NGO Fondation Cancer has donated close to €405,000 to a research project aimed at better understanding prostrate cancer.
As part of the funding of cancer research, Dr. Carole Bauer, President of Fondation Cancer, and Lucienne Thommes, Director, presented a cheque for €404,914 to Dr. Markus Cronauer from the University Medical Center of Schleswig-Holstein and Dr. Frédéric Santer from the Medical University of Innsbruck. The objective of this research project is to determine whether and to what extent the AR-V7 protein and its variants could serve as markers in the treatment decisions of prostate cancer.
Just like healthy cells, prostate cancer cells are also highly dependent on androgens (type of hormones). While at the local tumour stage, prominent treatments include the complete removal of the prostate, by surgery or radiotherapy, when prostate cancer is at an advanced stage, the strong dependence on androgens is used therapeutically. Although the majority of patients initially respond well to first-line hormone therapy, after a few years the tumour almost inevitably progresses because prostate cancer cells become resistant to castration. These tumours, also called castration resistant prostate cancer (CRPC) are generally accompanied by metastases and remain incurable to this day.
In recent years, the treatment of CRPCs has evolved considerably. Whilst treatment options to prolong the life of patients with CRPC tumours were previously limited to cytotoxic chemotherapy based on taxanes (after the failure of hormone therapy), new (anti-)hormonal therapies have recently shown that early CRPCs are not completely resistant to hormonal manipulation. Therefore, in addition to taxanes, treatment with CRPCs may once again include endocrine (hormonal) substances.
However, not all patients respond to taxane-based chemotherapy or second-line hormone therapy. In addition, none of the substances used is capable of sustainably preventing the further progression of tumours. Currently, there is no biomarker to predict reliably whether a patient will respond to chemotherapy or hormone therapy and, if so, at what stage. That being said, initial trials have indicated that the AR-V7 protein, a molecule in the androgen signaling pathway, could constitute such a marker.
Computer simulations as well as molecular biology analyses have similarly shown that the CE3 peptide has a decisive influence on the function and stability of the AR-V7 protein. Within the framework of the project funded by Fondation Cancer, the AR-V7 proteins which are distinguished by the presence of the CE3 peptide could be identified as biomarkers, because of their function and their value. A new test system for detecting variants of the AR-V7 protein is thus being prepared and the results of the funded research project should make it possible to determine whether the AR-V7 protein or its variants could serve as markers in therapeutic decisions and if so, to what extent.