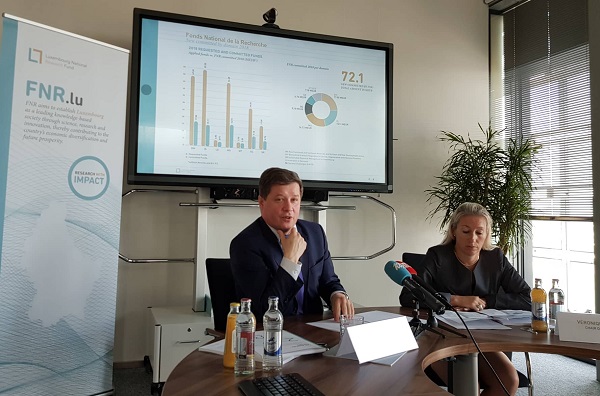 Marc Schiltz, Secretary General and Executive Head of FNR, and Véronique Hoffeld, Chair of the Board, present the 2018 FNR Annual Report; Credit: Jazmin Campbell
On Friday 24 May 2019, the Luxembourg National Research Fund (FNR) presented its annual report for 2018.
The year 2018 was marked by the new multi-year agreement 2018-21 signed between the FNR and the Government, but also by the work of redefining national research priorities for which the FNR was mandated by its supervisory ministry.
In 2018, the FNR evaluated 735 proposals submitted under its various instruments and granted funding to 260 research projects. The FNR committed €72.1 million (out of a requested €210.5 million) to finance the selected projects.
The evaluation and selection process encompassed 1,461 evaluations of international experts. The overall project success rate was 35.37%, a positive figure compared event to research projects in other countries, such as France.
Among the chosen projects, Marc Schiltz, Secretary General and Executive Head of FNR, highlighted a few "success stories":
"Core" funding for a storytelling project by Karin Priem from the Centre for Contemporary and Digital History (C2DH) at the University of Luxembourg. Launched in 2013, the project looks at the steel history of Luxembourg through the history of the ARBED steel company.
"Attract" scholarship for Dr Dirk Brenner's (Luxembourg Institute of Health, LIH) immunology research project. Dr Brenner has since built up a team of ten young doctoral and post-doctoral researchers, gives conferences and had works published in the "Cell" research journal.
"AFR" grants for young researchers, one of which went to physician Dr Riccardo Rao who completed his PhD at the University of Luxembourg and is currently developing a new theory in life sciences as part of post-doctoral research in Princeton (US).
"IPBG" funding in partnership with industries. One highlight was the strategic partnership with GoodYear and LIST researchers for ideas for tyres of the future (for instance, those that emit less noise, using different materials, etc.). The FNR funded some 20 doctoral and post-doctoral material researchers in this way.
In addition, the FNR continued to award individual grants for researchers in collaboration with industry, in the form of "Industrial Fellowships", and to collaborate internationally with thirteen countries. For instance, the "Inter Mobility" programme supports researchers in Luxembourg on long stays (up to one year) abroad as part of their research as well as international researchers wishing to visit Luxembourg for research purposes.
Other highlights in 2018 were the FNR Awards (for publications, PhD theses, etc.) and Researchers' Day 2018, which attracted 6,500 visitors (including 2,000 school students) to the Rockhal over two days. The event offered 31 interactive workshops and five "Science Cafés". In addition, 124 researchers met with 75 classes from 28 secondary schools across the country to explain research.
Finally, as the FNR celebrates its 20th anniversary next week, Véronique Hoffeld, Chair of the Board, reflected on the huge progress that has been made in building up research since the Fund's creation. Indeed, in the past 20 years, the FNR has financed a total of 3,646 research projects, amounting to €655 million.