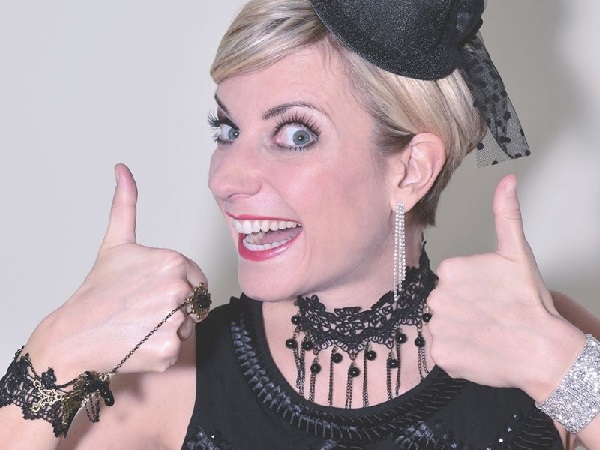 Credit: Adrienne Haan
German-Luxembourgish cabaret artist Adrienne Haan has announced three upcoming events in Germany this autumn as part of her Europe Tour: a performance of her show "Between Fire & Ice" at the Beethovenfest and a performance of "Cabaret Français" at the Pantheon in Bonn, as well as a performance of "Tehorah" in the Haus der Humanisten in Stuttgart.
Following her confirmation that she will be performing in Luxembourg and Poland later this year, Adrienne Haan has announced that she is taking her shows across the border to Germany in September and October. First up, Haan will perform "Between Fire & Ice", directed by Benjamin Schaefer, to an audience at the Beethovenfest in Bonn on 13 September 2019. The show, a diabolical Weimar Berlin Cabaret depicting Berlin during the 1920s, forms part of celebrations of the 100th anniversary of the Weimar Republic.
On 24 October 2019, Adrienne Haan will perform another of her shows in Bonn: "Cabaret Français", at the Pantheon. Featuring classics by Edith Piaf, Charles Aznavour and Jacques Brel and introducing lesser known works such as 1920s and 1930s French chansons by Kurt Weill and Walter Jurmann, Haan will present her uniquely crafted cabaret, which also includes contemporary pop-jazz songs originally performed by Patricia Kaas and French Canadian singer Isabelle Boulay. Benjamin Schaefer will be on the grand piano.
Adrienne Haan will then move on to Stuttgart's Haus der Humanisten for a performance of "Tehorah" on 27 October 2019. Tehorah, which means "pure" in Hebrew, is a heartbreaking, promising musical story about war, loss, hope, love and forgiveness. The soirée contains songs from Jewish composers and lyricists, sung in German, Yiddish and Hebrew. At the same time, Tehorah is a historical-poetic portrait. First performed at Carnegie Hall in New York, this soirée sets a sign of hope for peace among the peoples. Benjamin Schaefer will once again be playing on the grand piano.
Adrienne Haan is now a permanent resident of the US. For more information and other tour dates, visit http://adriennehaan.com/tour-dates.