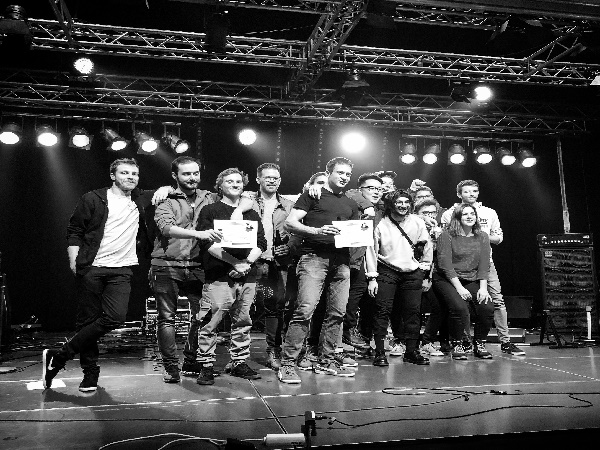 Luxembourg band Legacy of Atlas have been crowned the winners of Rock the South 2018.
This past Saturday 15 December saw Legacy of Atlas named "best newcomer of the year" at the Rock the South 2018 competition.
The competition, organised on the initiative of the youth committee of the municipality of Pétange in collaboration with the SNJ (National Youth Service) Rocklab and 7FM, Ara Radio and Péiteng On Air, is aimed at amateur rock bands and newcomers to the Luxembourg music scene. This year the competition included an original line-up of four bands, who competed for the title of "best newcomer of the year 2018 ".
After a short welcome speech, the audience and the jury, composed of professionals and music lovers in Luxembourg (this year Radio Ara, an independent musician and the SNJ), listened to the four groups competing at Home St Hubert in Pétange. These were: Drife (alternative, British rock), Legacy of Atlas (metalcore), Snake Bite (metal) and Stelise (melancholic rock, trip-hop).
One after the other, the bands performed to the best of their ability within the 25-30 minutes time frame, before the jury determined the winner according to the following five criteria: originality of the songs, charisma and presentation, musical talent, contact and interaction with the public and upstream promotion.
The jury finally chose Legacy of Atlas as one of the two big winners of the evening due to the band's maturity and full use of space on stage - they even managed to make a mini circular pit for the spectators. The band has therefore won a package worth €1,000 (stage rehearsals, musical advice, professional coaching, membership card). As tradition dictates, they can also perform at Rock the South 2019.
The second winner of the evening was Drife. With an obvious stage presence and flawless charisma, they won a recording session at AUDEO audio-visual studio in Lamadelaine. Finally, the group Stelise was chosen to perform on the stage of the "On Stéitsch" festival thanks to the SNJ in 2019.
Fallen Lies, last year's winner, followed by the group Irina, rounded off the evening before the announcement of the big winners.