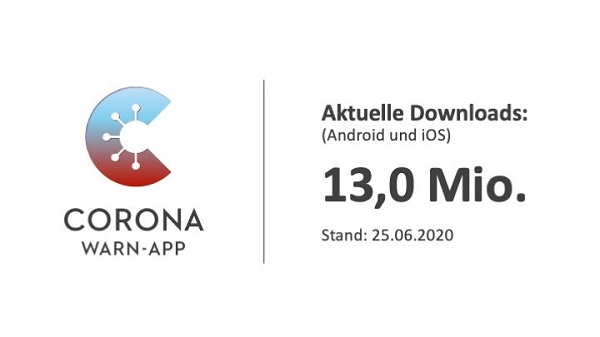 Credit: Robert Koch Institute / Twitter
German federal agency and research institute the Robert Koch Institute announced on social media yesterday the launch of its COVID-19 tracing smartphone application in several European countries, including Luxembourg.
On Tuesday last week, the German government urged the public to download the new "Corona Warn App", developed by the Robert Koch Institute. The contact-tracing app warns users if they might have been in close contact with coronavirus-infected individuals. To do so, it uses Bluetooth to measures the distance between app users' smartphones. If two such smartphones are found to spend fifteen minutes or more within a two-metre distance, both phones store the contact anonymously. If one user tests positive and documents this in the app, the other user receives a notification.
This week, the app launched in ten European countries outside Germany: Luxembourg, France, Belgium, the Netherlands, Austria, Belgium, Bulgaria, the Czech Republic, Denmark, Poland and Romania. It is available for free on both the App Store (IOS) and Google Play (Android). As of Thursday morning, the app had been downloaded 13 million times.
There is currently no such application officially approved by the Luxembourg government, which has been wary of potential privacy concerns.