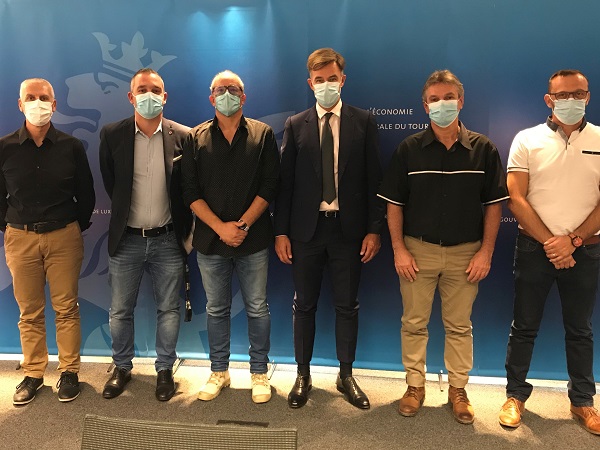 Economy Minister Franz Fayot (centre) surrounded by representatives of OGBL and Guardian Luxguard staff delegates; Credit: MECO
Luxembourg's Ministry of the Economy has announced plans to encourage the Guardian group to invest in its lasting presence in Luxembourg.
Minister of the Economy, Franz Fayot, met today the representatives of the OGBL trade union as well as the staff delegations of Guardian Luxguard on the subject of the restructuring of the group's glass production and processing activities in Luxembourg. Trade union concerns were related to the sustainability of production sites, the loss of jobs and the conclusion of a job retention plan followed by the negotiation of a possible social plan.
Economy Minister Franz Fayot expressed his understanding of the difficult situation in which employees find themselves and the uncertainty facing their families. Stressing the importance of social dialogue, he assured union representatives that the government supports the use of the various instruments relating to the job retention plan, such as in pre-retirement-adjustment or the assumption of costs for re-qualification training, in the interest of the employees concerned.
During this meeting at the Ministry of the Economy, the future development of Guardian's presence in Luxembourg was also discussed, namely the possible reconstruction of a furnace on one of the two sites in Bascharage or Dudelange. Franz Fayot confirmed that the ministry is preparing, through various aid regimes, to encourage as much as possible Guardian to invest in a new facility at the forefront of technological and environmental progress and capable of produce glass with high added value, less sensitive to the vagaries of a market impacted by the economic crisis triggered by COVID-19. In this context, the Economy Minister added that he was ready to travel as soon as the situation allows it to the United States to meet the leaders of Guardian in order to convince them to keep or even consolidate the industrial footprint of the American group in Luxembourg.