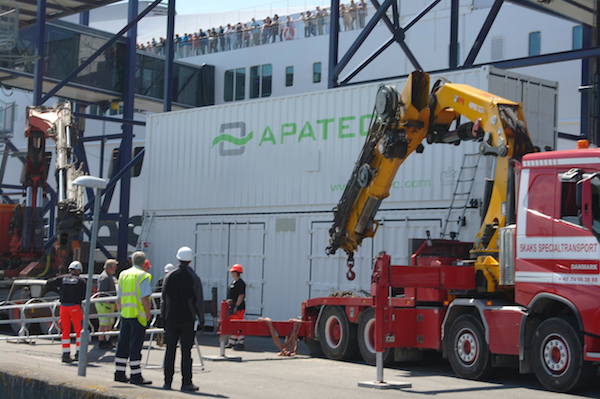 Luxembourgish clean-tech company APATEQ has been chosen as the supplier for cleaning Scandlines ferries' closed loop exhaust gas scrubber.
APATEQ's treatment system, MarinePaq, cleans the scrub water and produces an effluent according to the most stringent environmental legislation, while achieving substantial savings on operation costs and flexibility gains for the fleet said the company in a statement.
The system has been installed in two containers stacked one on top of the other at the harbour in Gedser. The scrub water treatment system cleans the scrub water in a five-step process that is sufficiently effective that the cleaned water can be discharged into the harbour according to the most stringent environmental legislation, being substantially beneficial for the environment.
By operating the MarinePaq on shore, Scandlines may save expensive water disposal costs for hauling the scrub water to the nearest industrial wastewater treatment facility. The shipping company is also not dependent on the availability of external water disposal providers, thereby saving time and gaining flexibility. As the scrub water does not need to be treated at centralised wastewater treatment plants anymore, the MarinePaq contributes to a relief of these often overloaded facilities.
According to APATEQ, the onshore treatment of the MarinePaq also achieves a much higher quality of purification than any other existing scrub water treatment system, such as the ones offered for on board applications. Heavy metals, COD, nitrite, sulphites and nitrates are being reduced to much lower levels than any other solution currently implemented. As a result, Scandlines may count on an infrastructure that is capable of facing toughening and constantly evolving regulations.