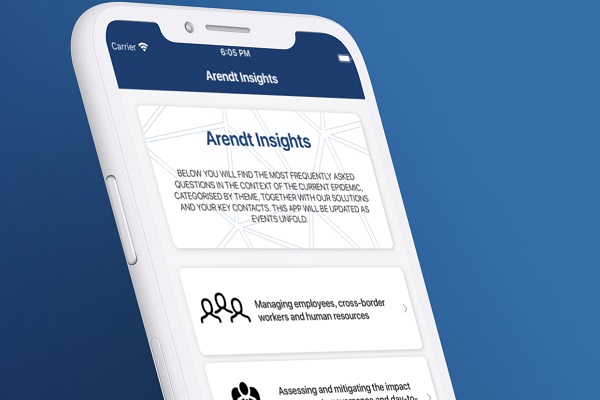 Arendt Insights; Credit: Arendt & Medernach
Luxembourg law firm Arendt & Medernach has announced the launch of its new Arendt Insights mobile application, offering direct access to legal developments affecting business in the Grand Duchy.
Created during the COVID-19 crisis, the Arendt Insights app informs users of developments in business, tax and regulatory law, directly on the user's smartphone or tablet.
Managing Partner Jean-Marc Ueberecken explained: "In this context where the flow of information is growing, Arendt Insights is a practical alternative to stay informed on these subjects, without being inundated with emails".
Arendt Insights is aimed at a wide audience, different professions or sectors of activity linked to Luxembourg: fund industry players, professionals in the banking and financial sectors, entrepreneurs, company management and legal advisers and all forms of companies, from start-ups to multinationals. It can also be used by journalists or professional associations as a tool for gathering information on sometimes complex legal developments.
The first version of the app contains contributions from Arendt experts from the COVID-19 Solutions platform. This content brings together the most frequently asked questions from contacts or customers and the answers, opinions and advice of Arendt experts. Each response also directly gives the name of the person or team who can provide additional assistance.
At present, Arendt Insights answers over 100 questions related to the COVID-19 crisis. It is divided into fourteen sections, depending on activity sectors and specific situations, and facilitates access to information. The app also brings together a library of more than 100 links to legal decisions or practical documents, originating from professional structures, authorities and government.
The next version of the app is in production and will offer more interactive and multimedia content, as well as a calendar of upcoming Arendt news events. Users are notified as soon as an update occurs.
The app is available for free on the App Store (for IOS systems). The Android version is under development.