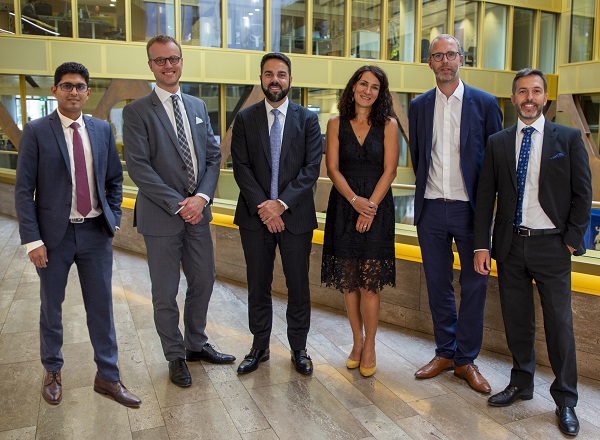 Six new partners; Credit: KPMG Luxembourg
KPMG Luxembourg has announced six promotions to partner level; Rushvin Appadoo, Jonathan de Hemmer Hamborg, Vincent Ehx, Roxane Filippa, Jan Jansen and Xavier Martinez have taken on the new role as of Tuesday 1 October 2019.
In addition to the six new partners, this year's leadership nominations include eleven promotions to associate partner: Giovanni Daniele Arcidiaco, Benjamin Brugerolle, Michael Jahke, Maria Anna Nonweiller, Alessandro Raone, Daniel Rech, Susanne Reinert-Jardin, Francesco Sardella, Muhammad Tahir Khan, Laureen Tardy and Sorin Vlad. The newly appointed associate partners assumed their positions yesterday.
Philippe Meyer, Managing Partner, commented: "We are committed to bringing the future to our clients, and these new partners will be delivering it with expertise, dedication, and innovative spirit. They represent our future and we are excited to see them thrive in their new role. We are equally thrilled about our other promotions, who also bring a lot to the table when it comes to professional services and technological capabilities".
Earlier this year, KPMG also launched Lighthouse Luxembourg, an investment in data-driven technology and technology-driven profiles. Lighthouse is a dedicated service line for these technologies to help clients maximise customer experience, reduce costs, manage risk and optimise their operating models. Continued investment in new profiles with strong capabilities in technology such as data scientists, software engineers and consultants is considered a vital part of this area of the business. Indeed, this year saw a total of 436 people promoted, almost one-third of the total staff.
KPMG Luxembourg's Head of People, Thierry Ravasio, commented: "At KPMG, we empower our people to embrace technology and contribute their ideas. We are proud of what our people have achieved in this space, with some staff ideas transforming into actual client projects. Our people are and will always be our most valuable asset".
KPMG Luxembourg currently has over 1,750 staff.