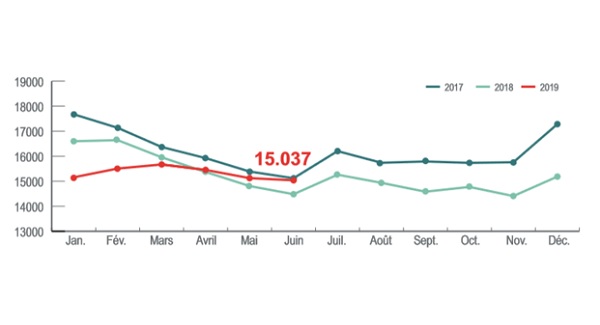 Luxembourg's unemployment figures have been released for June 2019 and show that the numbers of people seeking work have risen by 3.8% over the past 12 months.
The number of available resident job-seekers registered with the unemployment office (ADEM) stood at 15,037 as of 30 June 2019 (7,728 women & 7,309 men; 2,896 U30, 5,662 U44, 6,479 45+). These figures show that 45% of job-seekers are aged 34+. Further examination of statistics reveals that 48% of job-seekers do not have a school leaving certification, and 43.6% have been registered as unemployed for 12 months or more.
Over one year, this represents an increase of 555 people, or 3.8%. This increase, observed for two months, is partly explained by the beneficiaries of REVIS who came to register with the ADEM because of the law that came into force on 1 January 2019. Compared to May 2019, the number of resident jobseekers available dropped by 87 persons or 0.6%, due to seasonal variations. The seasonally adjusted unemployment rate calculated by STATEC is 5.5%.
The number of available non-resident jobseekers registered with the ADEM stood at 2,457 as of 30 June 2019, a decrease of 7.4% compared to June 2018.
During the course of June 2019, ADEM opened 1,943 new files of resident job-seekers, an increase of 12.7% compared to June 2018. In addition, 394 new files of unemployed non-resident job-seekers were opened, which corresponds to a rise of 69.1% compared to June 2018.
At the same time, there has been an increase in file closures. This increase in entry and exit movements can be explained by a facilitated registration procedure, put in place since the end of 2018.
The number of beneficiaries of an employment measure stood at 4,190 as of 30 June 2019. Over one year, this represents a decrease of 208 persons, or 4.7%.
During the month of June 2019, employers reported 3,597 vacancies to ADEM, 3 more posts than in June 2018.