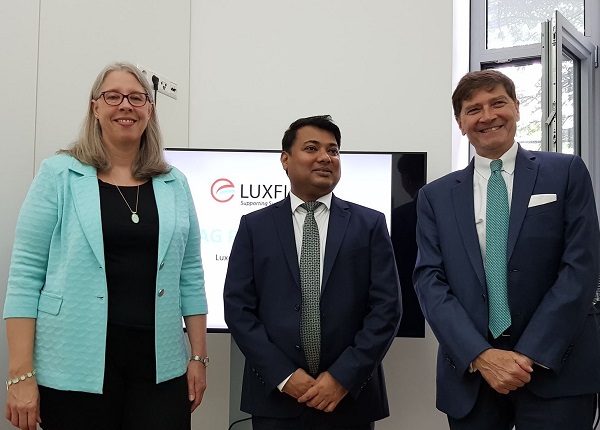 L-R: Denise Voss; Sachin S Vankalas; Thomas Seale; Credit: Jazmin Campbell
During the Luxembourg Finance Labelling Agency's (LuxFlag) Annual General Meeting (AGM) on Thursday, the non-profit association announced the appointment of Denise Voss as its new Chairwoman.
Denise Voss will replace outgoing Chairman Thomas Seale who served in this role for a period of seven years. The former Chairwoman of the Luxembourg fund association, ALFI, will draw upon her extensive experience in the fund industry, having worked in leading finance positions in Luxembourg since 1990.
Commenting on her appointment, Denise stated that "LuxFLAG has demonstrated tremendous achievements in the past years", adding that she was "eager to drive forward the association's central position in securing investor trust".
Indeed, the labelling agency, active in sustainable finance since its creation in 2006, experienced 30% growth in 2018 and, by 1 July 2019, the association will have issued a total of 136 labelled investment vehicles with €53.4 billion assets under management from five different jurisdictions (Luxembourg, Belgium, France, Germany and, most recently, Ireland). As of June 2019, the agency also has 83 Associate Members.
Regarding the labels themselves, 2018 saw LuxFLAG issue 63 ESG (environmental, social and governance), 32 Microfinance, 21 Green Bond, nine Environment and four Climate Finance labels, as well as granting "Applicant Status" to seven investors who have applied for labels. The application process involves filing an application to be analysed by the LuxFLAG Eligibility Committee (composed of academics, analysts, auditors, consultants, economists). If the applicant meets the defined criteria, they will receive the relevant label for one year, after which time they can re-apply.
Denise Voss will be aided in her work as Chairwoman by the newly appointed General Manager of LuxFLAG, Sachin S Vankalas, who has worked at the agency for eight years. Prior to joining LuxFLAG, Sachin worked as an Investment Officer for a Swiss Management firm in Zurich and before as a Rating Analyst in an International Rating Agency.
Speaking of the association's growth and what the future has in store, Sachin commented: "We want to build on these achievements, promote the opportunities that sustainability brings to the financial sector and showcase how impactful and game-changing social and environmentally-focused investments can be".
At a press conference held earlier today, LuxFLAG's leadership highlighted that sustainable finance is a top priority for today's financial sector, boosted by "clear political and public awareness, huge investment demand [and] [upcoming] regulatory changes", to quote Sachin Vankalas from a press conference held earlier today. He added that LuxFLAG contributes to this trend by providing a "benchmark" for products which, by possessing one of the agency's five labels, can prove their sustainability.
Indeed, LuxFLAG granted a further 20 new labels on Thursday, including 17 to ESG Funds, two to Environment Funds and one to a Microfinance Fund.