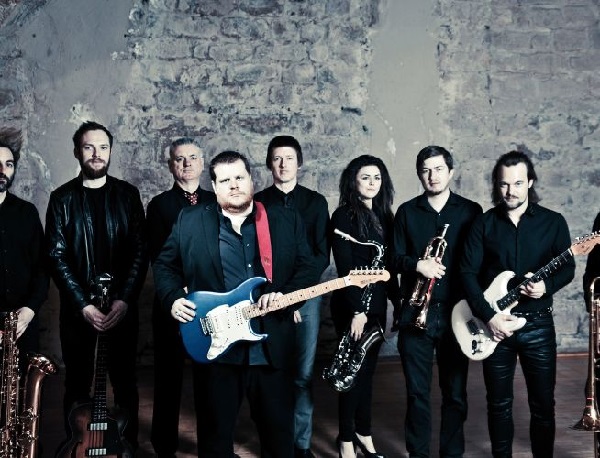 Danny Bryant & Big Band;
The opderschmelz cultural centre in Dudelange has announced upcoming performances from various local and international blues artists, including guitarists and singer-songwriters Danny Bryant (UK) and Walter Trout (US).
First up, American blues artist Walter Trout will take the opderschmelz stage (in the Grand Auditorium) on Wednesday 23 October 2019 from 20:00. Considered one of the best guitarists worldwide, Trout has often been mentioned in the same sentence as the likes of Eric Clapton or Jimi Hendrix. Indeed, his music represents a successful synthesis between blues and rock.
Since 1968, Walter Trout has played with various bands and musicians and from 1979-1980, he played with the legendary blues musician John Lee Hooker. From 1980 to 1984, Trout was a member of the band "Canned Heat" before joining forces with English blues artist John Mayall between 1984 and 1989, when he founded the Walter Trout Band (renamed Walter Trout & The Radicals in 1999). Trout played more than 200 concerts per year during these years. On 25 January 2019, he released his special Blues cover album "Survivor Blues" with Mascot Label Group. Tickets for his opderschmelz show, which forms part of the "Survivor Blues - European Tour 2019", cost €25 (pre-sale, plus fee) or €30 (at the door).
Two weeks later, on Wednesday 6 November 2019 at 20:00, the Berlin-based 17 Hippies will be performing at opderschmelz as part of their "Kirschenzeit - Zugaben Tour". With 20 albums in 22 years and more than 2,500 concerts in 28 countries, these thirteen musicians have developed their very own style. Catchy melodies and traditional music from different countries have influenced them to play with intuition and joy, melting together their early anarchic tunes with groovy new songs. They produce urban hippie music in German, French and English. Tickets for their opderschmelz show cost €20 (pre-sale, plus fee) or €25 (at the door).
Then, on Friday 15 November 2019 at 20:00, Luxembourgish artist Jerome Reuter's ROME will take the stage as part of the "Touch of Noir 2019" festival at opderschmelz. Considered one of the most important figures in the neofolk genre, ROME have spent the last thirteen years exploring and pushing their musical boundaries. Their music unites American folklore with Chanson and the angst-ridden tristesse of English Post Punk – "Chanson Noir", as leading man and sole permanent member Jerome Reuter, once called it. Reuter takes musical nods from Jacques Brel, Johnny Cash, Townes Van Zandt, Tom Waits, Leonard Cohen, Michael Gira and Nick Cave.
The protagonists of ROME's lyrical world are history's forgotten heroes and outsiders, most notably those of the 20th century: Anarchist rebels, the French resistance or Southern Africa's struggle for freedom. Now, ROME's thirteenth album "'Le Ceneri Di Heliodoro" marks a return to the martial folk origins of the project and it is a grim and bleak picture Reuter is painting in these poignant folk songs. Tickets for this show cost €20 (pre-sale, plus fee) or €25 (at the door).
Last but not least, English blues guitarist and singer-songwriter Danny Bryant, accompanied by a big band, will be performing at opderschmelz on Tuesday 26 November 2019 from 19:30, as part of the "Big European Tour 2019". "BIG" is the realisation of a dream that has accompanied Danny Bryant since the beginning of his career: to record his songs with a big band (nine members) in front of an audience. This dream was realized in early 2017 when Bryant, supported by fellow artists on the keyboard, bass, drums, rhythm guitar and a brass section complete with four pieces, presented his songs at three exclusive concerts in Germany and in the Nederlands. The success of these shows led to the release of the double live album "BIG" (Jazzhaus Records), as well as a tour and appearances at renowned festivals in the UK, Germany, Switzerland, Poland and the Netherlands. Now Danny Bryant, again accompanied by a big band, will be presenting his new album in Europe at some exclusive concerts. The Luxembourg show costs €20 (pre-sale, plus fee) or €25 (at the door).
To purchase tickets for these concerts, visit https://www.opderschmelz.lu/tickets.