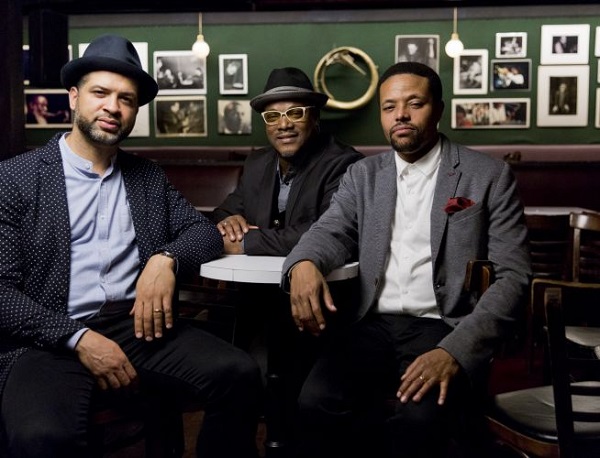 Jason Moran and The Bandwagon;
The opderschmelz cultural centre in Dudelange has announced upcoming performances from local and international jazz artists, including Michel Reis and Jason Moran and the Bandwagon.
First on the agenda, Michel Reis, an internationally renowned Luxembourgish jazz pianist and composer, will take the stage to present his eleventh (and newest) album "Short Stories" on Thursday 3 October 2019 from 20:00. Michel Reis studied classical piano and jazz, composition and theory in Luxembourg, his country of origin, and in Boston before pursuing a professional jazz career in New York. He has collaborated with artists such as Joshua Redman, Vince Mendoza, Didier Lockwood, Richard Bona and several others. Tickets for his show at opderschmelz cost €15 (presale, plus fee) or €20 (at the door).
The following week, on Saturday 12 October 2019 at 20:00, US jazz trumpeter and composer Ambrose Akinmusire will be performing alongside the Brussels Jazz Orchestra. Born in Oakland, California, Ambrose Akinmusire was already a promising musician as a teenager. He was still playing in the Berkeley High School Jazz Ensemble when Steve Coleman took him on tour after a masterclass. Today he is one of the spearheads of contemporary jazz in the USA. Tickets for his Luxembourg show cost €25 (presale, plus fee) or €30 (at the door).
On Wednesday 16 October 2019, the Luxembourgish-French jazz duo, Sascha Ley and Laurent Payfert, will take the stage from 20:00. On this occasion, Luxembourgish multi-language vocalist, composer, actress and poet, Sascha Ley, and French double bass player and composer, Laurent Payfert, will present their new album "It's alright to be everywhere". Tickets cost €15 (presale, plus fee) or €20 (at the door).
US-Romanian duo Lucian Ban and Mat Maneri will then present their re-imagination of George Enesco's magnum opera "Oedipe", in the form of "Oedipe Redux" on Tuesday 19 November 2019 from 20:00. More than 80 years after its first showing in Paris, Romanian expat pianist and composer Lucian Ban and US master violist Mat Maneri, renowned for their work at the cross-border of jazz, improvisation and chamber music, will be presenting their take on the rarely produced Enesco's opera featuring an international cast of jazz iconoclasts like Ralph Alessi, cutting edge singers Jen Shyu and Theo Bleckmann, bassist John Hebert, master drummer Tom Rainey or Gerald Cleaver and French virtuoso clarinetist Louis Sclavis. Tickets cost €25 (presale, plus fee) or €30 (at the door).
Finally, US jazz pianist Jason Moran and his group The Bandwagon will be performing at opderschmelz on Thursday 21 November 2019 from 20:00, as part of this year's "Touch of Noir" festival. Since his formidable emergence on the music scene in the late 1990s, Jason Moran has established himself as a risk-taker and innovator of new directions for jazz as a whole. In almost every category (improvisation, composition, technique and experimentation...), the Blue Note Records recording artist has challenged the status quo and earned the reputation as "the future of jazz", alongside and The Bandwagon bassist Tarus Mateen and drummer Nasheet Waits. Tickets for the upcoming Luxembourg show cost €25 (presale, plus fee) or €30 (at the door).
For more information and to book tickets, see https://www.opderschmelz.lu/tickets.