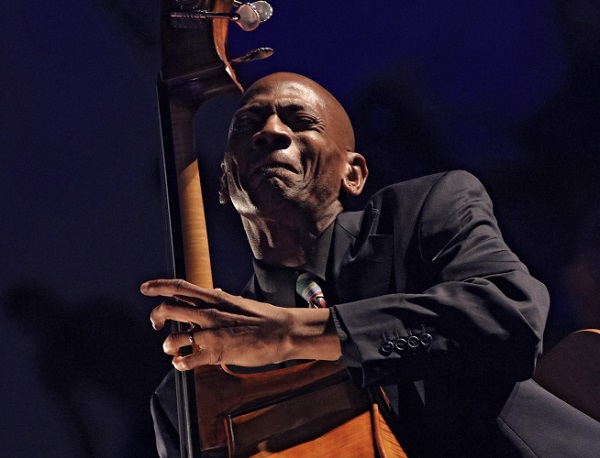 Reggie Washington quartet;
On Wednesday 13 February 2019 at 20:00, the Reggie Washington Quartet will perform a concert at the Opderschmelz in Dudelange, where they will perform music from their new CD "Vintage New Acoustic" which was released last November.
Reggie Washington plays with a natural and contagious energy of jazz, funk, Rn'B, blues, world music and even experimental music - while combining the life of leader with that of sideman. His bass lines are sophisticated, clear and precise. Reggie, cared for in his work, likes to mix people from different cultures to magnify his music by learning from others and immersing himself in their ideas.
He played a key role in the modern jazz revolution of the '80s and '90s. Reggie is known for his tours, recordings and performances with Steve Coleman, Branford Marsalis, Roy Hargrove, Chico Hamilton, Cassandra Wilson and many others. Reggie is the favorite bassist of many great jazz stars and continues to tour with Archie Shepp, Jacques Schwarz-Bart, Lisa Simone, Mike Clark, Regina Carter, Robin Mc Kelle and gospel diva Liz McComb.
With his new album VINTAGE NEW ACOUSTIC, released on 7 November 2018 from Jammin 'Colors, Reggie realised a project that he had been preparing since 2012 and where he would play mostly double bass. "I have two personalities: an electric side and an acoustic side. The way I express myself on each of them is different, but both sides contribute to my music."
In 2018, Reggie Washington presented Vintage New Acoustic to the audience of the festival "Like a Jazz Machine" at Opderschmelz. "The immediate positive response gave me that great energy to take the project to the studio. I think we captured this enthusiastic atmosphere during our three days of recording."
Why Vintage New Acoustic? - Vintage, because vintage music is timeless, it stands the test of time. New represents the feelings, ideas and direction that musicians try to make for this music. Reggie expresses through his acoustic bass (Acoustic) and uses it to support the music. "I want to continue to be free in my music and to express myself with creative musicians! I want my quartet to have fun so that the audience hears the sound that happiness produces".
He shares this adventure with three exceptional musicians: the fantastic keyboardist Bobby Sparks, revealed with Roy Hargrove & RH factor and one of the pillars of Snarky Puppy. Belgian saxophonist Fabrice Alleman, composer, improviser and melodist unparalleled Reggie likes energy, lyricism, beautiful sound and contagious swing. Dr E. J. Strickland brings a unique added value to this music. Head of a world-renowned quintet, he has agreed to put his talents at the service of Reggie's music. E.J. also plays with Ravi Coltrane, Christian Sands, Manuel Valera …
The quartet repertoire is a mix of standards and jazz classics enriched with original pieces written and reordered to fit the band's personality. This unique blend of tradition and innovation is further enhanced by the subtle combinations of jazz, funk, blues and neo-soul.