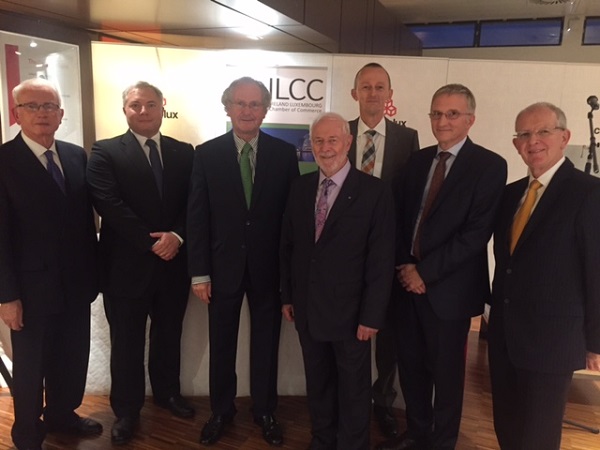 On Wednesday evening, the Ireland Luxembourg Chamber of Commerce (ILCC) held an evening seminar at Cargolux' restaurant in Sandweiler, on the topic of "Airlines: Getting off the Ground".
Joe Huggard, Chairman of the ILCC, welcomed the 50-strong attendees to the latest ILCC event and mentioned that 8% of GDP growth is linked to airports and airlines.
Paul Helminger, Chairman of both Cargolux and Luxair, and moderator for the event, mentioned that Luxair celebrated its 50th anniversary a couple of years ago, and Cargolux celebrated its 45th anniversary last year. Cargolux has a global reach. He referred to Lux-airport which is aiming for 3 million passengers/year (2015 figures were 2.6 million). Airport connectivity to economic centres of Europe is important; today's challenges include regulatory issues, competition from low-cost carriers, technological advances
Michael Norton, who is on the board of the Irish Aviation Authority and who has worked with Aer Lingus, British Airways, Air Jamaica, Cayman Airways, amongst others, was one of the founders and CFO of Emirates Airlines. He stated that his experience spanned four continents. He acknowledged that at times he felt like a mercenary, but he had always wanted to be involved in the industry since his childhood was sparked by adventure. He referred to the Wright Brothers being bicycle makers with a dream to be responsible for the first aircraft. On 17 January 1903 the Wright Brothers managed to realised their dream, but it took another eleven years for commercial aviation to become a reality.
He recalled various changes during the evolution of aviation. The significant driver of aviation in the early days was equity, with national governments becoming directly involved. However, most enterprises were inefficient and loss-making, until the end of the 1970s when low-cost carriers started out with private equity. Regarding Emirates, the main owners were from Japan who availed of tax breaks.
Annually around 3.5 billion people travel by air, equivalent to half the world's population, with the aviation business having a combined turnover of USD24 trillion world-wide, and employ 58 million people in total. Since inception, 65 billion passengers have been transported by commercial airlines.
While the industry has been profitable for the last number of years, the return on investment is now 5-6%.
He talked about low-cost airlines and the public perception that they skip on safety; he discounted this by stating that the airline industry is second to just the nuclear industry in regulation. He said that Ireland is the 2nd safest in Europe and 4th safest in the world. The regulators are responsible that regulation is implemented by the operators. Airlines are required to report incidents, both large and small, on a daily basis.
He also stated that the aviation industry is responsible for circa 2% of the world's CO2 emissions. Also, looking to the future, he expects supersonic transport in a couple of years' time.
He also explained that much of an aircraft's fuselage is now made, not from metal, but from a fibre that is mixed with a resin, then baked. He talked about reusable rockets that will allow travel from Europe to Australia in 90 minutes.
Alex Wandels, Head of Eurocontrol, used a visual presentation to show the volume of aircraft in the air, particularly between the US and Europe. For their monitoring service, for example, Ryanair pays circ €30 million monthly. On 9 September this year, a record was set with 34,593 aircraft in Europe being revenue-generating for passenger traffic on one day. He showed as well how it is expected to grow over the next 25 years.
Johan Vanneste, CEO of Lux-Airport, also ran four airlines over 18 years. He referred to Ryanair coming to Luxembourg from 30 October; it will be one of six new airlines starting operations from Luxembourg this year, including, HOP, LOT, Aegean and FlyBE. He referred to this year's passenger estimates through the airport which he thinks will just be missed this year; this 3m threshold is crucial for the amount of state aid that is allowed by European regulators.
He mentioned future investments including a new runway costing €120 million which may mean increases in taxes and landing charges; 50% of this cost should come from state aid, as long as passenger numbers this year are under the 3 million threshold. Other recent investments include restaurants and shops, as well as expanded car parks, with an emphasis on convenience for the passenger and to modernise the infrastructure. Next year, from May/June, the 2nd passenger will be open, which will mean that using buses to reach the Luxair Q400s, for example, will be a thing of the past.
He explained how Lux-airport is now communicating about its activities and is attracting significant interest from other airlines. On the issue of security control for flying outside the Schengen area, he stated that the Luxembourg police have just recently confirmed that their 2017 budget will include for the provision of 5 passport readers which will go some way to alleviating thie staff shortages at the airport as well as improving access for passengers.
Robert Fisch, CEO of Luxaviation Luxembourg, talked about charter aircraft (leasing) and aircraft management, both of which are activities of Luxaviation which now employs 1,600 people and operates 250 aircraft which totalled 53,000 flight hours last year, throughout the 14-airline network of Luxaviation. Giving the example of one of the aircraft they use, an Embraer 45 jet, the commercial configuration is for circa 50 seats; Luxaviation's configuration is circa 12 seats. He talked about peace-of-mind, with Luxaviation's emphasis of getting passengers home even if there is a technical issue that arises.
The average time saved using a private aircraft instead of a scheduled aircraft is 2 hours; he described business aviation as a time-saving machine. He said that once passengers step into one of their planes, they are in a business environment, meaning they can continue working while in the air. He mentioned lower emissions as most of their aircraft are lighter and newer-generation than many commercial aircraft.
He talked about the growth of the airline over the past few years from its origins of just one aircraft, with an acceleration from 2013 when they started to buy up other companies. He stressed that the focus of the group is acquisitions, not mergers, with no redundancies at all. Now the group is ready for organic growth.
The formal presentations were followed by a Questions & Answers session during which many members of the audience asked a series of questions to the panel members.
Paul Helminger conluded that the dreamers can continue to dream, in that there is a lot to look forward to in the aviation industry. The evening concluded with a buffet reception.