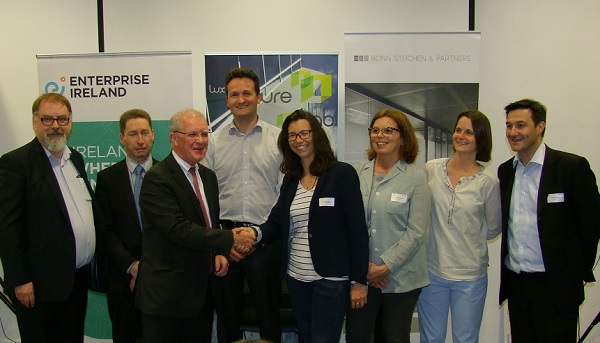 On Monday evening , Largo Wind with their project Connected Rope won the top prize at the Ireland Luxembourg Chamber of Commerce (ILCC) Innovation Contest 2016, which held its Pitching Event held at the premises of Lux Future Lab in Luxembourg city centre.
The third edition of the ILCC Innovation Contest 2016 had kicked off at Nyuko on 15 March, with Largo Wind / Connected Rope following in the footsteps of Wellvue (2013) and Sponsor-my-Event (2014). They win a trip to Dublin with Enterprise Ireland facilitating introductions to an innovation hub and other entrepreneurs there. Other prizes had been donated by Bonn Steichen & Partners, The Huggard Consulting Group, The Corporate Horse Whisperer, LBAN, LuxFutureLab, nyuko, Silicon Luxembourg and Technoport.
With Geoff Thompson as Moderator, the Dragons (the judges on the evening) included Larissa Best (LBAN), Karin Schintgen (Lux Future Lab), Paul Barreveld (Enterprise Ireland), Martin Guerin (Nyuko) and Alan Ridgway (ILCC).
The focus on this year's contest had been on early-stage start-ups (<€50k raised). As long as the project would be operated from Luxembourg and has a technological component, there was no restriction as to business sector and whether it is product- or service-based, nor whether the participating entrepreneurs are ILCC members or not. To apply, start-ups had to demonstrate that they have covered the four basics: (1) market research; (2) product prototype; (3) (financial) business plan; and (4) have the ability to deliver a pitch.
The nine start-ups pitching included the following:
Project name: Celestial Adventures
Company name (if formed): n/a
Representative presenting: Matt Dawson
Project Overview: Celestial Adventures will show the night sky to stargazers of all ages, through one of the largest telescopes in Europe.
Project Description: Celestial Adventures offers the wonders of the night sky and the beauty of nature in a quiet rural setting, only an hour from Luxembourg. L'Observatoire des Cotes de Meuse has one of the most powerful telescopes in Europe, and we welcome our guests for an evening, a weekend or a holiday in our charming 17th century Bed & Breakfast, near Lac de Madine Aquatic Centre. Unforgettable views of the Stars and Planets, explained by experts!
Project name: Connected Rope
Company name (if formed): Largowind Sàrl
Representatives presenting: Mathilde ARGAUD, Jean-Nicolas GRANDHAYE
Project Overview: Bringing peace of mind to boat owners through our smart device on their ropes providing elaborated data of the boat on the captains' smartphone.
Project Description: Boat owners are not always living close to their boat, but they all worry about their precious boat. In order to tie the boat to the harbour they have ropes, which they need to pay attention to and will often need to double-check. We have developed a smart way to bring peace-of-mind anywhere, anytime to the boat owners on the shape of their boat through our Connected Rope.
Project name: Finance-Eco-Money (FEM)
Company name (if formed): MFTSE Affairs S.A.
Representative presenting: Clive MUNN
Project Overview: Helping You to Satisfy your Socio-Economic Conscience
Project Description: Winning by sharing your knowledge, innovations and ideas to create and focus on a better socioeconomic environment for everyone. We want to help you to improve your financial literacy and capacity by learning from others within the community. Facilitate positive action by promoting social enterprise and business for good. Join us to help you spread the word by sharing positive news and information.
Project name: Luxembourg Idea Hub
Company name (if formed): FinnoLux (set-up to be completed in June)
Representatives presenting: Matt Elton, Leen Cuypers
Project Overview: FinnoLux, a Luxembourgish start-up, aims to harness the power of the social world to transform the way new products and services are created.
Project Description: The world has fundamentally changed. Customers want personalised services delivered to them using mobile platforms which they can use whenever and wherever they are. Social media has transformed the way people treat each other, and crowd-sourcing has shown that people are quite willing to work together to find solutions to real problems; after all, it is those who bring solutions to real problems who will be the most successful.
Project name: Merci Joséphine
Company name (if formed): Merci Joséphine S.à r.l.
Representative presenting: Romain Baroan
Project Overview: A reshaping of Senior in-home care with technology that focuses on emotional health, safety and communication between care providers, care recipients, and their families.
Project Description: "Merci Josephine" aims to revolutionise the elderly care sector through technological innovations. How do we plan to achieve our ambitions? We make it easy: Online reservation or via our connected button. We make it social: An application for the entire family to share the day-to-day life of your loved ones. We make it safe: Integration of connected objects to monitor health and wealth fare. We make it better: We propose the best care professionals via higher remuneration than the market standards.
Project name: Smart Calendar
Company name (if formed): n/a
Representatives presenting: Ricardo de Sousa, Jorge De Oliveira
Project Overview: A smart calendar that helps final customers and service providers to communicate quick and easy to contract appointments.
Project Description: A smart calendar that helps, on one side, final customers to find and to book quickly and easily the appropriate service providers and, on the other side, through a common web platform that helps service providers to react quickly and manage their appointment calendar automatically.
Project name: SmartGlass
Company name (if formed): Brain Network International
Representative presenting: Alain Haentjens
Project Overview: The SmartGlass companion for visually-impaired people are intended to increase their autonomy in everyday life.
Project Description: The glasses will help them in their movements (in the street, on public transport, etc.), they will give an audio description of their environment, they allow them to identify their interlocutor, to have remote assistance via a family member, a friend or a dedicated service, to know the time, know where they are currently located. Other features will be implemented later.
Project name: The Bar Corner
Company name (if formed): C.K. Webapp
Representatives presenting: Julien Cuvillers (CEO) & Mathias Klein (CTO)
Project Overview: The Bar Corner is the first mobile app dedicated to bars and their events in Luxembourg!
Project Description: The Bar Corner is the first mobile application dedicated to bars and their events in Luxembourg with a very advanced services approach. The bars are faced with three major issues: Unsuitability to smoking bans, a lack of new customers, a lack of window display to promote their special features. Through our app we bring a solution to those issues, providing bars with services to promote their activity, increase their turnover and renew their customers.
Project name: ZenonCar
Company name (if formed): should be ZenonCar S.A. or Zenon S.A.
Representatives presenting: Julien DANET
Project Overview: Local car-sharing mobile app that helps people to get back home safely, whether a passenger or a driver, as a mutual favour.
Project Description: This local and instantaneous car-sharing mobile app helps people match mutual needs: a person having a car but unable to drive and another person being a driver currently on foot. Whether having missed the last bus or having drunk too much, one will find the app very useful, so much cheaper than a taxi. With cheap fees and great utility, based on the principles of the new share economy, this app has a strong social footprint.
Photos (top): ILCC Chairman Joe Huggard congratulating the winner Mathilde ARGAUD of Largowind Sàrl (Connect Rope), with the DRagons (judges) and Moderator Geoff Thompson; (below): all the start-ups and the dragons