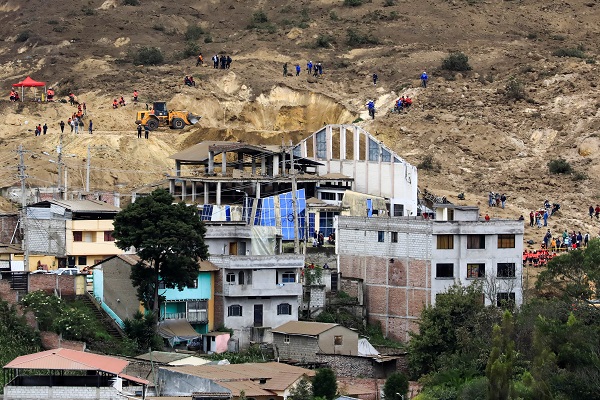 File photo: View of the site of a landslide triggered by heavy rains, during rescue operations, in Alausi, Ecuador, 28 March 2023; Credit: Reuters/Karen Toro
QUITO (Reuters) - At least seventeen people have died from a landslide triggered by heavy rains in Ecuador's Andean region, sweeping down over parts of the city of Alausi, authorities said on Thursday 30 March 2023, as the death toll increased and 72 people remained missing.
The landslide struck Sunday night, 26 March 2023, and on Tuesday 28 March 2023, the official death toll stood at eleven.
Ecuador's risk agency said another 37 were injured, while official data states 57 houses were completely destroyed and some 650 people affected by the disaster.
The government said rescue efforts continued in the area, where workers are being helped by heavy machinery and have installed shelters for people displaced by the landslide.
Earlier this month, a strong earthquake and severe weather prompted President Guillermo Lasso to declare a state of emergency in the fourteen worst-hit provinces. Heavy rains have destroyed roads, bridges and other infrastructure across Ecuador.