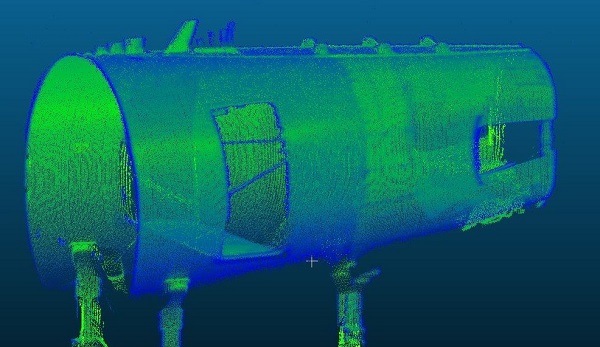 Credit: ESPACE 2001 S.A.
The Luxemburg-based company ESPACE 2001 S.A., which specialises in industrial robotics and image processing, has announced that it is taking over all shares in the joint venture 3D.aero GmbH from the previous owners Lufthansa Technik and Pepperl+Fuchs, as of 1 January 2021.
Founded in 2017, 3D.aero researches, develops and sells innovative automation and digitalisation solutions for the aviation industry. In addition to industrial maintenance and operational automation solutions, 3D.aero offers optical measuring device applications, digital inspection and image processing applications, in addition to its related consulting services.
ESPACE 2001, which provides robotics and industrial automation services, confirmed its intention to further develop 3D.aero's portfolio and to market the company's existing products and expertise in sensorbased automation technology in various industries outside of aviation.
Dr. Werner Neddermeyer, Managing Director of ESPACE 2001, commented: "We are very pleased to be able to continue the successful and close cooperation with 3D.aero that has grown over the years. As a shareholder of 3D.aero, we will focus on further promoting development in the field of sensor-based automation technology, and here in particular in the field of high-resolution 3D sensor technology. It is particularly important to us to continue to lead our highly specialised and motivated employees to economic success with interesting and future-oriented technologies in the field of industrial 3D sensor technology and data processing. To this end, we will expand the strategic partnerships that exist to a large extent in the aerospace industry and in other areas".
Dietmar Focke, head of Engine Services at Lufthansa Technik, explained: "The dramatic effects of the corona[virus] crisis on the aviation industry have unfortunately not stopped at 3D.aero. In order to ensure the survival of the company, an orientation into new markets is necessary. We are therefore extremely happy that with ESPACE 2001, we have found a buyer who, in addition to a high level of expertise, also has the necessary broad market positioning. I wish our staff the best of luck and success in their new home and thank them for the great work they have done over the past years".
Dr. Gunther Kegel, CEO of Pepperl+Fuchs SE, also welcomed the agreement: "We are convinced that the strategic realignment of 3D.aero, which was made necessary by the consequences of the corona[virus] pandemic, can be advanced much more quickly under the umbrella of ESPACE 2001, and we are pleased to have found such a future for 3D.aero and our employees. We thank them for their excellent work and wish them all good luck and success. We would like to continue the cooperation in automation in the future on a project-specific basis".
The headquarters of 3D.aero, which employs approximately 20 people, is the Hamburg Innovation Port (HIP) in Germany.