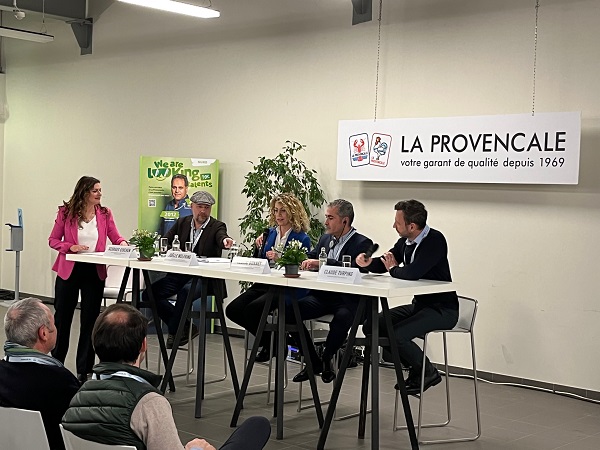 clc networking at La Provencale;
On Wednesday 8 February 2023, the Confédération Luxembourgeoise du Commerce (the Luxembourg trade confederation, clc) held its annual networking event at La Provençale in Leudelange.
Around 150 members attended the event which was organised in collaboration with the Luxembourg Food and Distribution Federation (FLAD) and was conducted in Luxembourgish with simultaneous translation into French. The topic of the evening was "The ecological transition in mass distribution: the challenges of a winning recipe".
The welcome was given by Carole Muller, clc President, and Georges Eischen, Managing Partner at La Provençale and FLAD President.
Carole Muller introduced the topic of the evening and stressed the importance of investing in our future and that such decisions need to be taken at a European level.
Georges Eischen addressed the issue of packaging from an environmental perspective, stressing the importance of all a tors needing to work together.
A round-table discussion followed, moderated by Nathalie Reuter and including Georges Eischen together with Claude Turping, MD at Valorlux, Joëlle Welfring, Luxembourg's Minister of the Environment, Climate and Sustainable Development, and Cédric Gonnet, Country Director of Delhaize Luxembourg and FLAD Vice-President.
Minister Welfring started off and stressed the importance of working together for a common goal. She referenced 50% of plastics are not recycled and end up being discarded. She called out fast food wrappings but also mentioned the new law from 1 January 2024 where large supermarkets must allow in-store recycling. She said that the law should also consider users / shoppers who need to have access to recycling centres close to high concentrations of population. She addressed European legislation on packaging that needs to be good for the market and respect the environment, agreeing that consumer education is necessary.
Cédric Gonnet emphasised s number of plus points for Luxembourg, including salary indexation and close collaboration with the government and industry associations. Concerning the new law from 1 January 2024, he stressed that supermarkets in the city centre, in shopping centres and stand-alone all have different issues and challenges and should not be classified together. He highlighted food safety and stressed that certain packaging is required to keep certain food fresh. For fruit and vegetables he stressed that packaging is still required, e.g. while in transport. However, he said that consumers are taking decisions on purchasing such items with / without (single-use) packaging, or reusable packaging. Asked about the younger generation being vocal in saving the planet, he agreed that consumer education is important, including the blue Valorlux bags. He agreed that ecological solutions are part of a transition.
Georges Eischen agreed that different establishments should not be treated in the same way. He called for a model that could be adapted and highlighted the blue bags from Valorlux. He also highlighted the restaurant trade, including fast food outlets as well as Christmas markets, pizza boxes, etc. He stated that the consumer must be able to choose an alternative model that needs to be installed within two years. He admitted that the packaging issue is complex and said that consumers need to be educated and offered alternatives.
Claude Turping addressed the issue of consuming in-house / on-site and said that recycling should be encouraged at every opportunity. On the subject of young people, he agreed regarding education being needed, and also stressed the need for fast food packaging to he recycled. He concluded by talking about plastic packaging being replaced by cardboard.
The formal part of the evening was followed by a networking cocktail and visit of La Provençale's premises.
The clc represents 11,000 companies in the Grand Duchy which employ 100,000 staff and are responsible for 22% of the country's GDP.