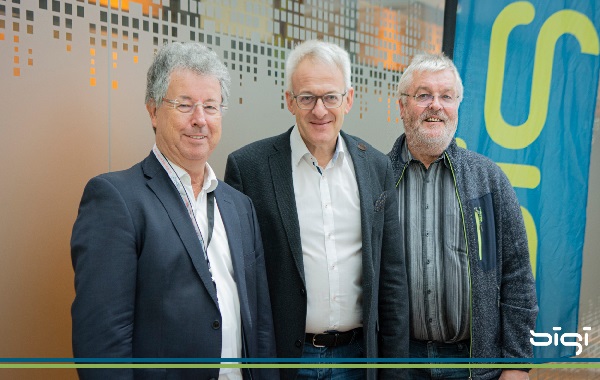 L-R: Emile Eicher, SYVICOL President; Yves Wengler, SIGI, President; Nico Jacobs, First Vice-President of SIGI; Credit: SIGI
SIGI and SYVICOL, two of the largest inter-municipal unions in Luxembourg, have agreed to strengthen cooperation.
On Wednesday 13 November 2019, the President of SIGI (Syndicat Intercommunal de Gestion Informatique), Yves Wengler, and first vice-president Nico Jacobs welcomed the president of SYVICOL (Syndicat des Villes et des Communes Luxembourgeoises), Emile Eicher, to the headquarters of the SIGI in Contern. The objective of this meeting was to discuss national current affairs such as the reform of the municipal law, communal financial governance and housing, to name but a few.
Ultimately, Yves Wengler and Emile Eicher agreed to intensify collaboration between the two unions, particularly in the areas of digitalisation, administrative simplification and the implementation of new legislation.
The collaboration between the two unions is based on sharing the same objectives: to reinforce the autonomy of municipalities and to create efficient and effective work methods. Each union will contribute with its own qualities: SIGI with the operational component and SYVICOL with the vocation of representing the general interests of the municipalities.
Regular meetings between the SIGI and SYVICOL teams will be organised to deal with current issues and to work together in the interest of municipalities and their residents.