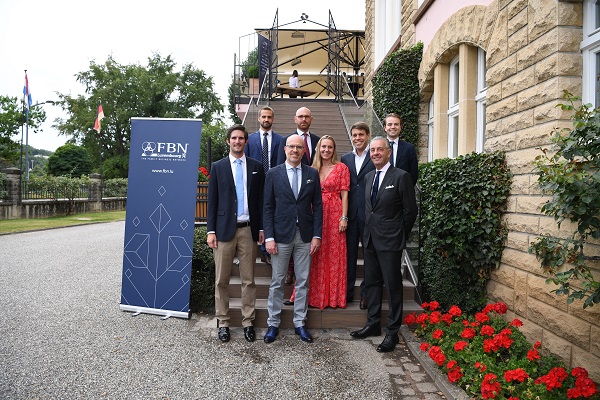 The new network for business‐owning families in Luxembourg was launched on 5 and 6 July: the Family Business Network Luxembourg.
It is part of Family Business Network International, the world's biggest network for family businesses. Based on sharing experience between peers and conveying best practice, the aim of FBN Luxembourg is to give family businesses the knowledge and information they need to strengthen their position and successfully pass the baton to future generations.
FBN International is the world's biggest family business network.
It is a not-for-profit organisation founded in 1990, with the idea of linking up family businesses in a shared vision, knowing that they face many of the same challenges and values.
FBN‐I pursues the following objectives:
- Share knowledge and best practice in a global framework.
- Help family businesses to safeguard their continuity by preparing and training the rising generation.
- Defend and promote the role of family businesses with policymakers and opinion leaders.
Worldwide, the network currently links up 3,600 businesses (12,000 individual members), 5,000 of which are at least second‐generation, across 65 countries, through 33 local chapters. With FBN Luxembourg, Luxembourg family businesses now have their own network. Luxembourg family businesses are the backbone of Luxembourg's economy. They contribute to the country's social and economic stability.

FBN Luxembourg is a private not‐for‐profit association, constituted on 5 December 2017. As part of FBN International, members have access to all the opportunities offered by the international network: annual summits on different continents with leading academics and company directors, networking, company visits, analysis and research presentations, etc.
FBN Luxembourg intends to address a number of challenges specific to family businesses, by helping business‐owning families forge contacts with each other, share their experiences and discuss the challenges and opportunities presented by their activities.
It is a network open to medium and large family businesses. Medium and large family businesses owned by second or subsequent generations are invited to become members. In joining the network, they are required to respect certain values such as trust and openness, confidentiality, non‐solicitation and respect for professionalism in discussion.
The founding members are Max Didier and Jean‐Marc Kieffer (CDCL), Raymond Ackermann (Accumalux), Goy Grosbusch (Grosbusch), Antoine Clasen (Bernard Massard) and Georges Krombach (Landewyck Group).
The network also draws on the backing of its lead partner, Banque de Luxembourg, and support from PwC Luxembourg.
"We have created FBN Luxembourg to enable Luxembourg business families to benefit from a platform for discussion, a confidential space where they can feel free to share their own experience and learn from the experiences of other business‐owning families, both in Luxembourg and abroad, thanks to the network's international dimension. Luxembourg has never had a platform like this before," says Max Didier, CEO of FBN Luxembourg. "Among our priorities are questions specific to the 'Next Gen' as they are tomorrow's leaders. The rising generation will also have its own peer‐to‐peer discussion forum," he adds.
"We have always supported entrepreneurship in Luxembourg, and particularly family businesses – through their resilience, long‐term performance and the values they embody, they represent an inspiring example of entrepreneurship. Our support for FBN Luxembourg fits perfectly with this approach. As well as financial support, we intend to contribute actively to its development and thereby offer Luxembourg families a forum for discussion and reflection," explains Philippe Depoorter, Member of the Management Committee of Banque de Luxembourg, the lead partner of FBN Luxembourg.
Eventually, FBN Luxembourg hopes to connect around fifty business families in its network, offering them a series of high‐quality events, generating serious dialogue and hearing inspiring personal experiences, locally and internationally.