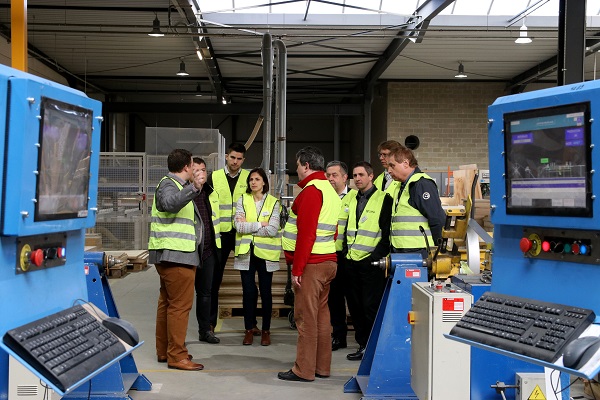 SEILA 2018 annual event in Wiltz;
Three times a year, the French Union of Industrial Packaging and Associated Logistics (SEILA) organises regional meetings to meet its members and to forward their requests and ideas to the Board of Directors; it has been more than 10 years since SEILA has met in the Grand Duchy.
NO-NAIL BOXES, a Luxembourg manufacturer of plywood folding crates, has been a member of SEILA since 30 November 1998; SELIA organised the regional meeting in Wiltz last Friday 6 April 2018, in collaboration with the Luxembourg company, a member of the ALIPA Group.
A welcome "Made in Luxembourg"
"This meeting brought together the Ile de France, the North-East of France, Belgium and Luxembourg. This shows first of all the recognition for the longevity of NO-NAIL BOXES within the union. This is also an interest for our products. But above all, it is the proof that NO-NAIL BOXES, and more widely the Grand-Duchy of Luxembourg, is an integral part of the fabric of French packers!" said Michèle Detaille, Managing Director of the ALIPA Group.
Everything was planned so that the day unfolded as scheduled. "The morning was devoted to a visit to our production workshops, followed by a working meeting. We also planned a more relaxed activity, as requested: here, the participants were able to brew their own beer during a Brewing Seminar at the Chateau de Wiltz, organised by the Wiltz Tourist Office in collaboration with the Simon Brewery" explained Jil Theis, Project Officer.
The importance of SEILA
SEILA is an important organisation representing packers with national authorities, in this case French and European. The union is also a good source of information regarding international standards. It is also a source of evolution since it allows, through regional meetings, to know the market and to meet the users of packaging.
"These are convivial moments. These meetings are really an opportunity to meet, in very good conditions, customers with whom we have a warm relationship", concluded Mme Detaille.
Established in Wiltz, NO-NAIL BOXES has been manufacturing folding plywood and steel crates for industry since 1961. Every year, some 300,000 cases, 90% of which are tailor-made, come out of its production lines. Certified ISO 9001 and 14001, AEO, PEFC, CSR, SuperDrecksKëscht fir Betriber and Dry at Gesond mat System, NO-NAIL BOXES is integrated in the packaging division of the ALIPA Group, a Luxembourg specialist in industrial packaging and lifting, which has about 130 employees.​