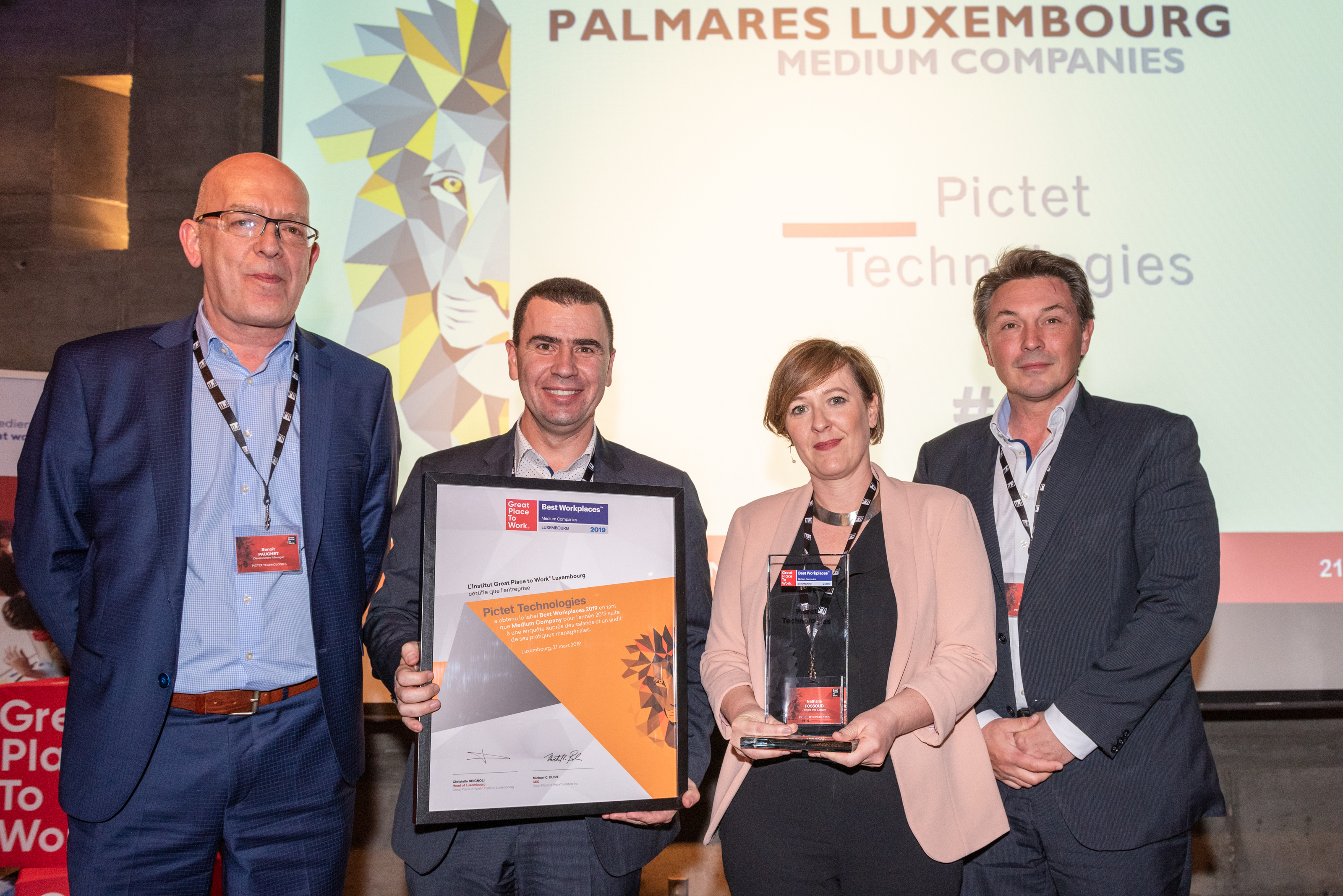 Pictet Technologies, Great Place to Work; Credit: Best Workplaces Luxembourg
Pictet Technologies, a computer services company of the Pictet Group, specialising in private and institutional wealth management, was created in April 2016 in Luxembourg; it now employs more than 100 employees and continues to recruit.
Designed to increase the Group's IT capabilities and improve the productivity and risk management of its IT services, Pictet Technologies develops IT solutions, software and banking applications for the Group and its customers.
"Pictet Technologies is an illustration of the Pictet Group's desire to maintain full control over its IT services and to provide them with the means to do so," said Vincent Eggen, CEO of Pictet Technologies SA. Located in Esch-Belval, Pictet Technologies relies on confirmed experts and also on younger employees, representing 19 different nationalities in 2019.
Pictet Technologies S.A. has been awarded the "Great Place to Work" label in both 2018 and 2019 in Luxembourg, a distinction essentially based on employee votes. This label of the international network of human resources management firms "Great Place to Work", rewards the open, innovative and team spirit of Pictet Technologies SA Pictet Technologies received in May 2019 the FlagshipAward awarded by the Professional Association of the Information Society (APSI).
The Pictet Group was established in Luxembourg since 1989 with a bank, Pictet & Cie (Europe) S.A., in charge of managing the Group's development in the European Union. Specialised in deposit, structuring and administration of investment funds as well as in private client counselling, Pictet & Cie (Europe) SA has more than 600 employees, nearly 760 including European branches (Germany, Belgium Spain, France, Italy, the Netherlands and the United Kingdom), and €255 billion in assets on deposit.