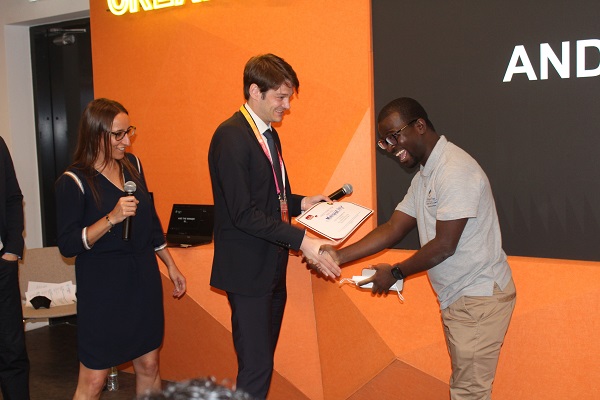 L-R: Bénédicte Godefroid, Microfinance Project Manager at ADA asbl; Paul Weber, Innovative and Inclusive Finance at Luxembourg's Directorate for Development Cooperation and Humanitarian Affairs; Sserubiri Uhuru, CEO of eMaisha Pay; Credit: MAEE
After the three first editions took place in Luxembourg, this year's special edition of the CATAPULT: Inclusion Africa programme was held in Dubai, United Arab Emirates (UAE) from 21 to 23 March 2022, in the context of the World Expo 2020.
eMaisha Pay from Uganda bested eight other fintech finalists from Africa and won this year's edition of the CATAPULT: Inclusion Africa boot camp.
eMaisha Pay is a mobile platform that leverages machine learning (ML), alternative data and psychometric parameters to credit score small and medium-sized enterprises (SMEs) in Africa. This model makes it possible to serve SMEs that had no access to finance in the past.
CATAPULT: Inclusion Africa is a series of fintech development programmes managed by the LHoFT Foundation, Luxembourg's fintech hub, to drive technology innovation in Luxembourg. It is funded by and created in collaboration with Luxembourg's development cooperation programme.
The fourth edition of CATAPULT: Inclusion Africa brought together nine startups from six countries: South Africa, Nigeria, Ivory Coast, Zimbabwe, Uganda and Ghana. During the three-day workshop series, expert speakers and mentors from Luxembourg and the UAE supported the selected firms in developing their businesses and achieving their inclusion goals. The workshops also allowed them to create synergies and to network with partners, sponsors, investors, microfinance institutions (MFIs) and public financial institutions (PFIs).
The boot camp culminated with a final pitch session, during which the companies built on the input they had received from the partners, experts and mentors over the course of the three days in front of an international expert jury. Based on criteria such as innovation, impact and market potential and the global quality of the presentation, Sserubiri Uhuru, CEO of eMaisha Pay, delivered the most convincing project proposal.
This year's edition was organised with support from the Alliance for Financial Inclusion as well as other strategic partners such as ADA, AFI, InFine, DIFC FinTech Hive, PwC, Luxembourg Microfinance and Development Fund, Luxembourg for Finance, Dubai UAE Expo 2020 and Compellio.