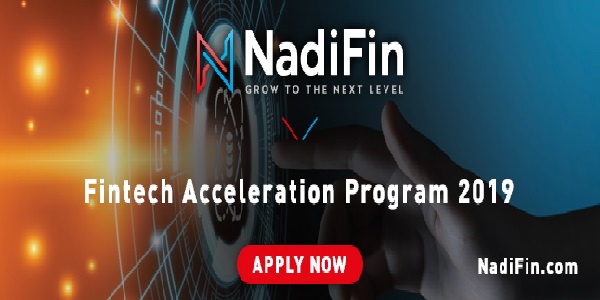 Applications have opened for the NadiFin Fintech Acceleration programme, powered by MiddleGame Ventures and Farvest in partnership with the Luxembourg House of Financial Technology (the LHoFT), until 10 April 2019.
The NadiFin will bring together post seed and pre-series B stage Fintech companies from around the world to learn and engage through a unique curriculum and a series of workshops led by experienced Fintech VCs including one of the programme's co-creators Pascal Bouvier, Managing Partner at MiddleGame Ventures. Pascal Bouvier commented: "We believe that NadiFin is an evolution for accelerator programmes. First, it is investor led and incumbent driven. Second, the peer to peer focus (learning, ranking) of the programme is ideal for a startup team to fully digest the curriculum".

Indeed, twelve of the most promising Fintech companies from around the world will convene at NadiFin over three four-day workshops in Luxembourg and Dublin. The programme will focus exclusively on cutting-edge Fintechs that are using Artificial Intelligence, Machine Learning, Big Data Analytics, Blockchain and other "deeptech" tools to create seamless solutions and businesses for the European financial services market and who are preparing to raise their series A to B round.

The programme, built from the ground up with experienced Venture Capital knowledge, foresaw the development of a specific curriculum in order to prepare entrepreneurs for scaling their businesses for profitable growth. The curriculum will integrate mentors, speakers, investors and peers to help the companies selected grow to the next level across all of their key strategic vectors. The NadiFin Fintech Accelerator Programme will thus engage a broad network of investors and strategic partners to facilitate real-world progress outside the classroom.
The cohort will compete in a trademarked peer-voting startup accelerator curriculum (powered by Village Capital) leading to a €100,000 investment from MiddleGame Ventures. The first workshop will take place during the week of 20 May 2019, with the European tech summit, ICT Spring.

Fintechs that are post-seed stage and pre-Series B can now apply to the programme, taking place this May-July 2019, online at www.nadifin.com by completing the application process before 10 April 2019. Applications will be reviewed by the selection committee, composed of MiddleGame Ventures (MGV), Board members, sponsors and select mentors.