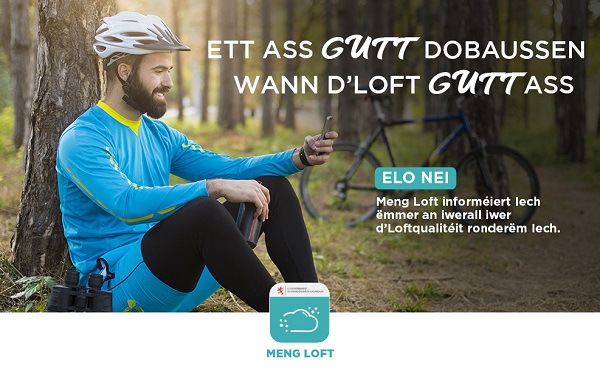 Luxembourg's Environment Agency has announced the launch of a new air quality alert service for summer on the "Meng Loft" application.
The Meng Loft application, developed and launched by the Environment Agency (AEV) in 2018 to inform users about air quality in Luxembourg, now allows the public receive a direct alert concerning phenomena related to air quality, for instance ozone pollution and the Air Quality Index (AQI).
Firstly, Meng Loft now notifies its users in real time in the event of ozone (O3) spikes at the national level. At high concentrations, this aggressive gas can be harmful to one's health, especially that of sensitive people (i.e. the elderly, children, patients with respiratory and cardiac disorders). For those concerned, this new real-time alert service therefore makes it possible to adapt their behavior according to the presence of this pollutant in the air.
Secondly, users of the app can also receive a notification if a station on the measurement network exceeds the chosen AQI. This index, the scale of which ranges from 1 (excellent) to 10 (unsatisfactory), is calculated from the concentrations of three air pollutants measured on automatic measurement stations spread over the national territory of Luxembourg. Sensitive people can feel the effects from level 4/10 (quite good) and healthy people from level 7/10 (very poor). It is now possible to receive a notification directly if a station on the measurement network exceeds an index between 6 and 10 (optional) and to be notified when the air quality improves.
Depending on the index, behavioural advice is given regarding human health.