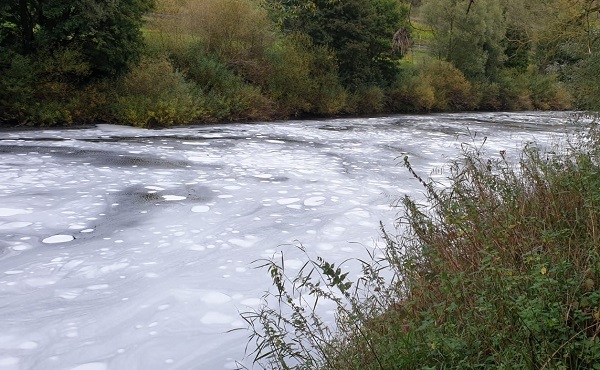 Sûre river pollution; Credit: AGE
A fire broke out yesterday at Euro-Composites SA in Echternach, leading to the major pollution of the Sûre river.
Around 100 firefighters were involved in extinguishing the fire, which started at around 12:30 and was under control by 15:30. Nevertheless, this major extinguishing operation has resulted in the pollution of the Sûre river downstream of Echternach by fire water, foam (based on polyfluorinated substances), solvents and phenolic resin.
Luxembourg's authorities have warned their German counterparts of the incident and the latter are working in consultation with Luxembourg's Water Management Authority (AGE) and the Grand Ducal Fire and Rescue Corps (CGDIS) to better stem the flow. At the Steinheim locality, dams are being installed in order to retain and remove the pollutants. These emergency measures aim to reduce the impact of the spill on the ecosystem.
In addition, the Water Management Authority has taken samples from the river to its laboratory to determine the extent of pollution.