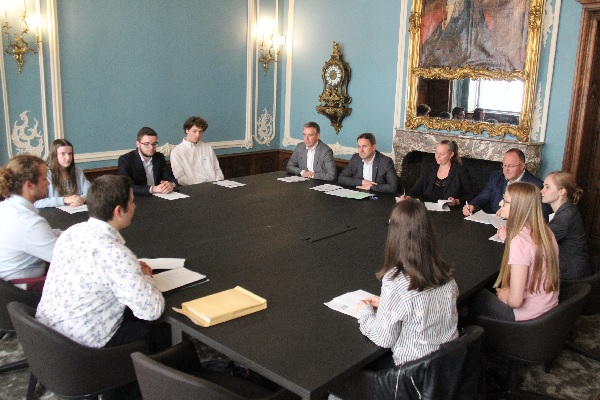 Credit: ME
In response to the march for climate gathering thousands of young people in Luxembourg City on 15 March 2019, the Luxembourg Government decided to enter into a constructive dialogue with young people on the issue of climate change and the measures to be adopted to curb this phenomenon.
In this context, four ClimateXchange meetings bringing together some 500 students took place between 8 and 17 May 2019 across the country, in the presence of the Minister of National Education, Children and Youth, Claude Meisch, the Minister of Education, Environment, Climate and Sustainable Development, Carole Dieschbourg, and the Minister of Agriculture, Viticulture and Rural Development, Romain Schneider. The three ministries organised these sessions in close collaboration with the National Student Conference (CNEL).
On Wednesday 19 June 2019, a delegation from the CNEL submitted to the government the summary report of these consultations, written by a group of students who had participated in the discussions. On this occasion, Prime Minister Xavier Bettel welcomed the delegation at the Ministry of State, in the presence of Ministers Claude Meisch, Carole Dieschbourg and Romain Schneider, to outline the results of the report.
In this report, the student delegation concluded that tackling climate change was the responsibility of all of society, not only that of students and teachers, citizens and consumers but also that of political leaders, who they argued "must also [...] discourage climate and environmental damage, ban or punish it, and to encourage positive countermeasures".
The government has since committed to keeping in touch with the CNEL to keep young people informed and thus provide concrete answers to the report by spring 2020. The Ministers welcomed the constructive exchange with the students and their commitment throughout the process. Indeed, the synthesis report will help inform the Government's National Integrated Energy and Climate Plan and the new Strategic Agricultural Plan that are currently in development.