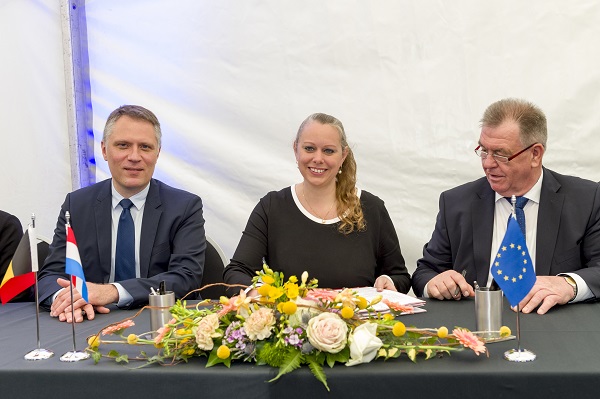 L-R: Cyprien Devilers, member of the executive committee of the Public Water Management Company (SPGE), Walloon Region; Carole Dieschbourg, Minister of the Environment, Climate and Sustainable Development; Aly Kaes, President of SIDEN; Credit: SIP/Jean-Christophe Verhaegen, all rights reserved
Luxembourg and the Belgian region of Wallonia today signed a cooperation agreement in the field of cross-border water protection.
In order to strengthen cross-border cooperation in the field of water protection, Wallonia and the Grand Duchy signed an agreement on sewage treatment, the protection of drinking water and the monitoring of the nitrates directive, on Tuesday 9 April 2019.
This agreement will replace the existing agreement signed on 17 March 1980 by the Grand Duchy of Luxembourg and the Kingdom of Belgium concerning the waters of the Sûre, including the evacuation and treatment of wastewater at the Martelange site. Conversely, the new cooperation agreement will not be limited to the management of this wastewater treatment plant, but will be in three parts.
Firstly, the agreement lays down the conditions for cooperation in the field of sewage treatment in international wastewater treatment plants. Treatment plants located on Luxembourg territory will treat Walloon wastewater (eg the existing plant at Martelange) and conversely wastewater treatment plants located in Walloon territory will treat Luxembourg wastewater (eg the future plant at Eisch-Steinfort).
The convention also deals with the exchange of information and collaboration for the monitoring of the production and application of livestock manure from cross-border livestock farms. Indeed, Luxembourg and Wallonia have agreed to establish, update and exchange databases on the transport of livestock effluents on both sides of the border.
Finally, the agreement provides for cooperation on drinking water protection zones. A protection zone whose catchment area is partly in the territory of the other country may be delimited on both sides of the border. Protective measures may therefore be implemented more effectively throughout the entire area of ​​the water catchment for human consumption.