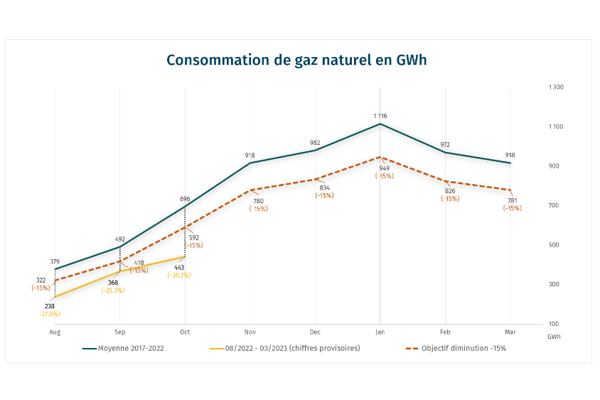 Credit: Ministry of Energy
On Tuesday 8 November 2022, Luxembourg's Minister for Energy, Claude Turmes, presented an overview of efforts to reduce natural gas consumption in Luxembourg.
Currently, Luxembourg is achieving its target of reducing natural gas consumption by 15%.
In August, September and October 2022, the reduction corresponded to approximately 37%, 26% and 36% respectively compared to the reference period of the years 2017 to 2022.
Nevertheless, Minister Turmes cautioned: "The October figures once again indicate a real desire in Luxembourg to participate in the collective effort to save gas. However, caution is still required: if temperatures drop after this relatively warm month of October, gas consumption for heating could increase considerably. So I still call for energy saving efforts!"
The Ministry of Energy recalled that Luxembourg is joining the effort of European Union Member States to reduce – in a first phase of a voluntary nature – 15% of the demand for natural gas over the reference period from 1 August 2022 to 31 March 2023.
More information on energy saving efforts as well as tips for saving energy can be found at www.zesumme-spueren.lu.
Switching public lighting off at night
The ministry also noted in this context that as of 7 November 2022, 32 municipalities, i.e. a third of the municipalities of Luxembourg, have already responded to the government's call to switch off the lighting of public roads for a certain period of the night.